Almost 100 children from 14 countries around the world joined together via Zoom for the event. IGS was the only school representing Australia. 
Each student presented a short speech on a topic of their choice starting with Just because…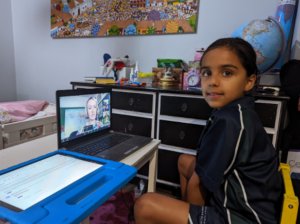 "The purpose of this event was to carefully and positively decrease stereotypes," said Year 4 Teacher Teresa Bertoli.
"We aimed for participants to spread the message that we should not make assumptions about people, getting to know our peers and classmates as individuals was an opportunity to build new friendships and sometimes surprise ourselves." 
Amelia said: "My topic was 'Just because I am a child it doesn't mean I can't make good choices.' I found the summit very interesting and I would love to participate again."
Astrid said: "My talk was about treating everyone equally no matter where you come from, what language you speak or what religion you are. I feel that we should have more global summits so that we children can support each other around the world."
Lucie said: "I thought that everyone listened carefully when I presented my speech. The Global Summit was very exciting and everyone was very friendly."   
Matilda said: "My speech was about 'Just because I am a girl does not mean I don't like to climb trees and get dirty.' The Global Summit was excellent."
Evelyn said: "The Nexus Global Summit was fun. It was interesting to hear other people's speeches."            
Penelope said: "My speech was about 'Just because I am young, it doesn't mean I can't change the world.' I wanted to raise awareness of natural disasters and climate change. I spoke about a club I created called Go Wild. I hope that the people who heard my speech try to make a difference now. The summit was a fun and interesting experience."
Jai said: "I felt nervous at the start but then I realised it was just like presenting in class. I would participate in it again and recommend it to everyone."
Swann said: "I enjoyed hearing other people speak their thoughts on various topics. I felt extremely proud of my students and all the students who presented."
The next summit will be in September or October. Stay tuned!!