Carmela's passion for music and performing continues to grow, and she is a proud member of the Sydney Children's Choir.
Director of Music Darren Kuilenburg described Carmela as "an outstanding instrumentalist and
vocalist
".

Carmela performs with many distinguished ensembles around Sydney and as part of the IGS Music Ensemble Program. In particular, Darren congratulated the development of her Operetta titled Migadan as part of her Indigenous Studies Project.
"The inspiration for this work is a Dreaming story, where Carmela has captured the essence of this story in a culturally sensitive and authentically creative approach. Her development of musical ideas, supported by a thoughtful interpretation of the narrative is exceptional. With her incredible skills as a musician, the compositional techniques she has explored, in building textures between voices and piano, have been treated very thoughtfully and through a wider variety of musical styles, harmonic progressions that explore consonance and dissonance, along with such interesting rhythmic patterns," Darren said.
"This work represents the true essence of IGS and certainly is a representation of her immense talent."
Carmela said she loves that IGS supports creativity and "allows students to be themselves."
"At IGS I have studied French since Preschool and completed HSC French Continuers as an accelerated student last year. I studied Spanish from Years 7 to 10 also. I have really enjoyed studying languages at IGS and I'm hoping to study music in France next year, a double degree in Opera and Violin," Carmela said.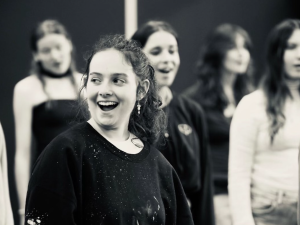 "The thing I love most about music is that it allows me to express all parts of myself. I love being able to be furious and devastated and elated all through my musical expression," Carmela said.
 "I also love working in a musical ensemble such as Sydney Children's Choir. I have been singing in the choir since 2017. From being in the choir I have gained incredibly valuable musicianship and sight singing skills which will be very important for my career as a musician. I have also made friends for life in my fellow choristers who are all like minded and incredibly talented musicians."
Carmela said she didn't know she could sing before joining the choir, and she is now considering a career in opera.
"I am so grateful for the opportunities and joy I have experienced."
"Our latest concert was entitled Hypnopompia (or the edge of the unknown). It was a devised piece, a collection of music married with staging and storytelling in order to convey a message. Hypnopompia was looking around at a world filled with war, climate change, celebrity influencers, and the pressures of social media. It explored the world of young people through a strange nightmare which questions what is real and what is not," Carmela said.
"I think my most memorable experience in the choir was singing in the World Choral Festival in 2019. The festival brought together the finest children's choirs from across the world and country, united by the love of singing. Over the week there were 21 concerts, public workshops, open rehearsals, atrium choirs, and a private chorister-only performance. The finale was two concerts involving all the choirs in the Sydney Opera House, Sounds of Australia and Sounds of the world. It was so amazing to make friends across the world with young people who love to do what we love to do and see the artistry and diversity in choral singing across the world.
"I have wanted to be a musician since I was a baby as my mother is a professional violinist. It runs in my blood, so I have been incredibly fortunate to have been a part of the Sydney Children's Choir, it has only further ignited my passion for music and performing."
A closer look at her Indigenous Studies Major Project, the story of Migadan
The story is the story of Migadan, a water spirit and guardian of the Bargo River. The fish in the river are her children. When Migadan is away, Barrago Warriors come to the river and start spearing the fish. They enjoy the sport and continue until they have killed all the fish. They eat some and leave the rest to rot in the sun while they fall asleep.
Migadan returns and finds all her children dead. Grief stricken, she decides to take revenge on the young men. She invites them to come into the water to cool off – she kills them one by one – all except one boy who hides and watches what happens – he runs home and tells everyone that Migadan has taken all the young men down to her underwater home and they have not come back…
The Barrago women come looking for their men. They confront Migadan. She tells them that the men are dead and she refuses to release their souls.
The Barrago women go to find the Creative Spirit and ask for her help. The Creative Spirit asks Migadan to release the souls of the young men. Migadan still refuses. The Creative Spirit sends lightening and whips the river water into a great whirlpool which drags Migadan down and keeps her trapped in the vortex for all time….
Collaborative Process
Carmela has collaborated with senior D'ahrawal knowledge holders so as to be able to tell this story, which constitutes precious heritage, in a fitting way. The performers are her friends from Sydney Children's Choir, Aborginal children from school and the little ones are the violin students of Carmela's mother Esmerelda. IGS Music Tutor Amandine Petit was the conductor and the pianist was Laura McDonald.
Carmela rehearsed the opera with daughters of IGS Violin Tutor Ursula Luxton, Skye and Bronte. Bronte is wearing a dragonfly headpiece made with fabric designed by Ikuntji artists in WA.