Every Term for one day during Week 2, you will find the Rue Kelly team hard at work running one of IGS's best sustainability initiatives. Second-hand uniform items, backpacks, hats and more line the tables on Kelly Street, and a smiling group of volunteers stands beside them. But this small street market is more than just a way to save some money on school uniforms. It's a way to divert textiles from landfills.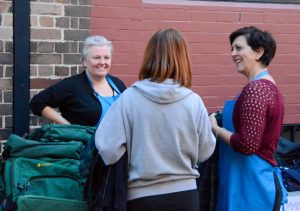 A Parent-led Initiative
Prior to 2007, the uniform shop had new and second-hand items for sale. However, in 2007 the uniform shop moved and used items were no longer available.
A few IGS parents decided that they would still prefer to have the option to purchase second-hand items, and decided that they wanted to take action to ensure they would be available. Thus, Rue Kelly was born. "Rue Kelly initially ran out of one IGS family's home, and everything was lugged in and out whenever we had a sale," said volunteer Karen Roberts. "Sorting was done over coffee at home."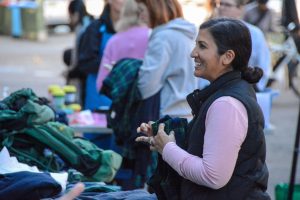 Then the PTS was given a storeroom to use, and the location of the sales moved to the Kelly Street entrance of the School. The then Principal Michael Maniska, upon seeing the micro market, likened it to Parisian street stalls and named the project Rue Kelly. Rue is the French word for street. "It's always been a joy of Rue Kelly—the catching up and the sharing of recycling ideas," said Karen.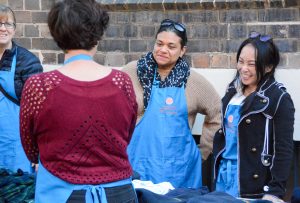 An IGS Circular Economy
An estimated 2,000 tonnes of uniform waste is sent to landfills every year in Australia. However, Rue Kelly gives the IGS community the opportunity to keep uniforms out of these landfills and in the hands of students who will continue to use them for years to come. "Kids grow out of the uniforms really quickly," explained Lisa Kwok, "but there's still a lot of life left in them."
Once items are damaged and no longer wearable, they are sent to Upparel, a textile recovery and recycling company, for repurposing. All of the company's recycling is done here in Australia.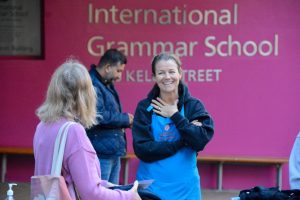 All of the profits from Rue Kelly sales go back to the school to support funding for school activities. "It's such a giving exercise, said Lisa. "Volunteers give their time, families donate used uniforms, uniforms are given another home at a bargain price, money raised at the sale is given back to the school community through PTF activities. We're all contributing to sustainability and reducing our impact on the environment."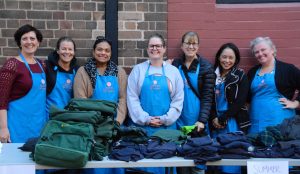 Be sure to keep a lookout for announcements about the next Rue Kelly sale, which will happen during Term 3 Week 2.