"Students recently performed at a special assembly, where delicious Italian products were displayed during the performance such as Nutella, Barilla pasta, Olio d'oliva and as a finale a catchy tune highlighted the much loved Parmigiano Cheese," said Head of Languages Junior School and Italian Teacher Vilma Rotellini.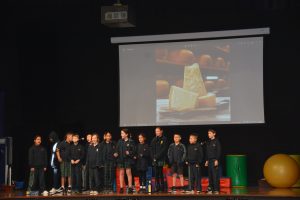 In Year 5 Italian Beginners, students recently enjoyed their visit to the Bibliothèque, where they enjoyed reading from a selection of Italian books.
"This is part of an initiative, giving opportunities for all Language students from Early Learning to Year 6 to visit the Languages Hub in the Bibliothèque for the joy of reading in their language," Vilma said.