The Young Archies accompanies the famous Archibald Prize for portraiture and the exclusive exhibition promotes the work of emerging talent across a range of age groups. Isabella is in the 13 to 15 year old category and is one of only 15 finalists selected from across the country this year.
"This is an enormous acknowledgement of Isabella's talent and her beautiful portrait of her friend Luella showcases a wonderfully sensitive drawing skill," said Director of Art and Design Drew Bickford.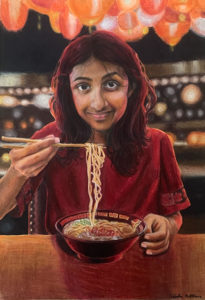 "My portrait is of my close friend Luella. She has been a massive role model and an inspirational and supportive friend throughout my first high school year and has given me motivation and support in my lows and highs," said Luella.
"I wanted to thank her by creating this drawing."
IGS Principal Shauna Colnan said "IGS students never cease to amaze me. Isabella is an extraordinarily gifted artist who has inspired us all with this beautiful work! In a year when our whole school goal is to go deep and produce something great, I love the portrait because it's a tribute to a friend and really brings out Luella's special qualities. Congratulations Isabella!"
The Young Archies opens this Saturday 14 May and the winner will be announced on 18 May.
Works can be viewed on the Art Gallery website AGNSW
Congratulations and good luck Isabella !