"Students engaged in an interdisciplinary project called King Hit," said Director of Dramatic Arts Rita Morabito.
"The project wove together learning outcomes from PDHPE, English and Drama in addition to a number of key competencies that translate across the curriculum. 
"This was especially relevant to the curriculum topic The Health of Young People and surrounding issues such as alcohol use and violence, which are covered in PDHPE.
"King Hit shed light on how momentary poor decisions can change lives, while also challenging the concept of 'bystander' behaviour and crimes that can take place without premeditation.
"All of Year 10 watched the show and took part in a thought-provoking discussion. Drama students then took part in a physical workshop."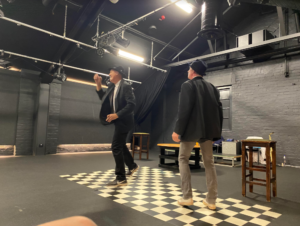 Liv Rey Laaksonen said: "Zeal Theatre was stunning! The performance itself was very reflective and captivating. The skills that they presented were very refined, particularly how they both changed characters instantaneously with their physicality, voices and staging.
"A moment that stood out for me was how they rewound their plot back to the climax and replayed it, slightly changing the progression which ended completely differently. The workshop aspect held for us drama students was also arranged very remarkably, and we all learnt many skills and tricks through some very fun and engaging activities."
 Akasha Hazard said: "Zeal Theatre's performance of King Hit was yet another fascinating excursion into their incredible and distinct style of acting. The precision with which they switched between characters and the deliberate exactness of their line delivery made for a smooth, flowing performance where the audience barely noticed there were only two
actors.
"Set in an Australian teenager's world that is all too familiar, each character could have faded into obscurity amidst a plotline that was brutally suspenseful, but instead the actors utilised an astonishing array of different physicalities and voice patterns that distinguished each larger-than-life character from the other. The inevitable climax of the plot shocked the audience into total silence; not one person moved. Even our breathing went quiet. This moment, above all others, will stay with me for a long time."
Abigail Advani said: "I enjoyed the performance of King Hit a lot. It was very interesting to watch the way that they would switch between characters and the portrayal of each person. The workshop afterwards was also a great experience. It taught me a lot about dynamics and how to change from one person to the next, as well as transitioning between scenes."
Audrey Storer said: "Zeal Theatre's performance of King Hit was an engaging and interactive experience for our year group. Their unique style of acting defined the performance and created an incredibly captivating piece that played heavily on the emotions and compassion of the audience.
"They deftly switch between characters using voice, physicality and speech patterns. In our workshop we explored this skill more deeply, as well as making links between their acting techniques and Commedia Dell'arte.
"Overall, it was a massively enriching experience and I personally came out the other side with many new perspectives and insights into the acting world."
Callum Robertson soid: "I really enjoyed Zeal Theatre's way of changing facial expressions and physicality so quickly to help express their characters."
Derin Sivrioglu said: "The show was so powerful and had so much meaning, it was great to see people bringing attention to the issues that teenagers go through. They are lovely people and they were great to work with and learn from.
Sabrina Turner said: "The Zeal Theatre performance was deeply moving and intensely relatable. The final scene rewinding and showing what would have happened if the King Hit had never taken place left all of us emotional and, for me, it was chilling, like seeing a ghost skipping off the stage with his only worry being what school will be like tomorrow."
Caitlin Elliott said: "Today we worked with Zeal Theatre. They performed King Hit earlier during the day and it was amazing. There were only two actors which meant they had to impersonate and switch between characters. Later that day we learnt some of their tactics on how to perform as multiple characters at once. This lesson was very useful and I learnt a lot."