A swarm of students gathered outside the newly refurbished Music Performance Studio on Level 3 at the beginning of lunch, waiting to be let inside to hear IGS rock band Dragons in Hats launch the 2023 Lunchtime Concert Series. 
Dragons in Hats, a rock band made up of Year 11 students Red (lead vocals), Patrick (guitar), Otis (drums) and Lucius (guitar), began playing together in 2018 when the four students performed for the first time as a group at the IGS Year 6 farewell assembly.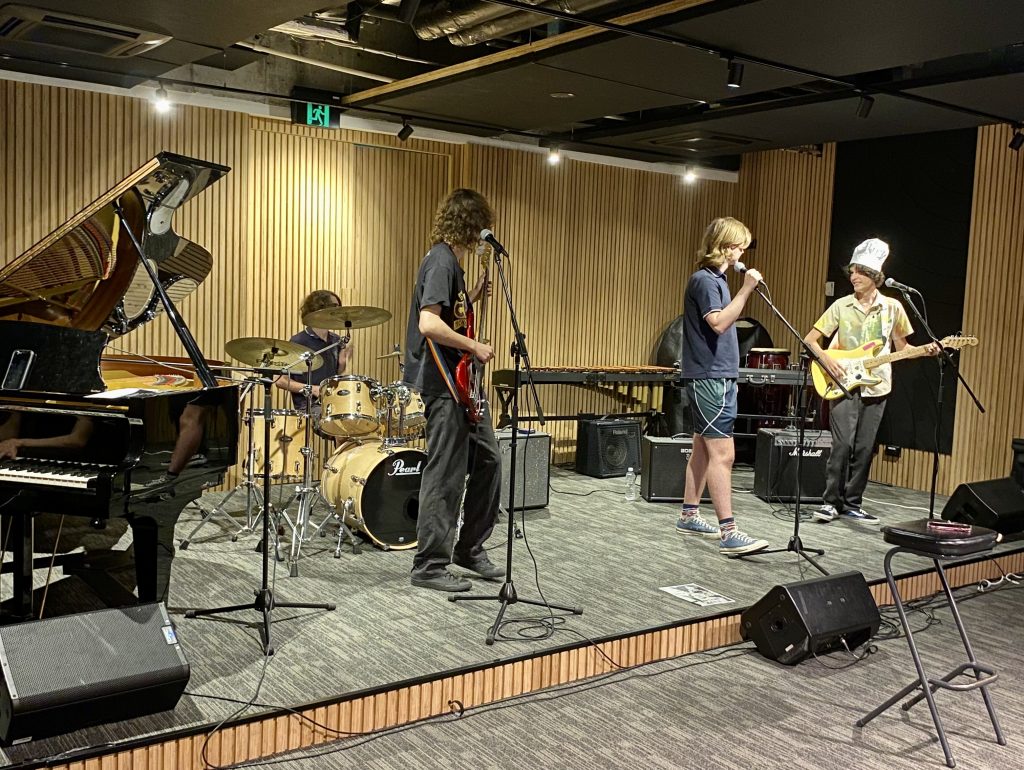 "That was more than five years ago now, and since that day we have just never stopped," said guitarist Lucius. 
The group kicked off the performance with their original composition Tsar, before performing a range of well-known covers including And She Was by Talking Heads and Should I Stay Or Should I Go by The Clash.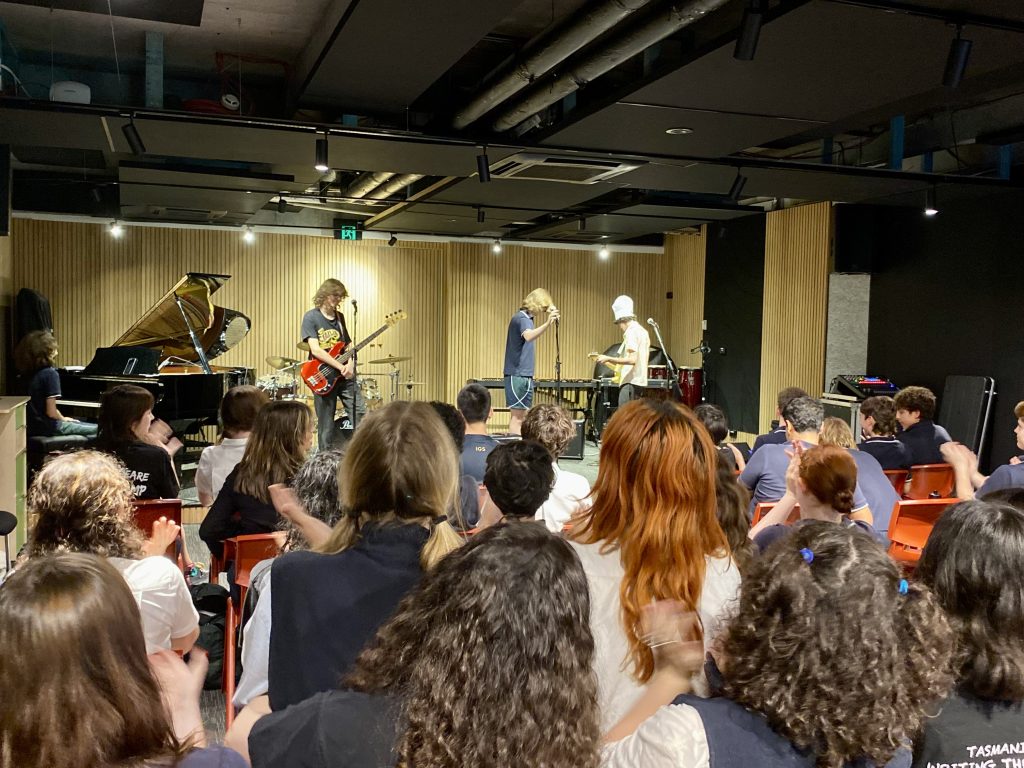 For a generation accustomed to TikTok autotune, Red's raw, passionate and powerful vocals were a breath of fresh air, as was the group's impressive musicianship and genuine gratitude and excitement to be playing to an enthusiastic audience of their peers. 
Indeed, the performance pulled a diverse crowd, with students from all year groups represented in the audience. Many in attendance jumped off their seats to dance along during the exhilarating encore rendition of Johnny B Goode by Chuck Berry.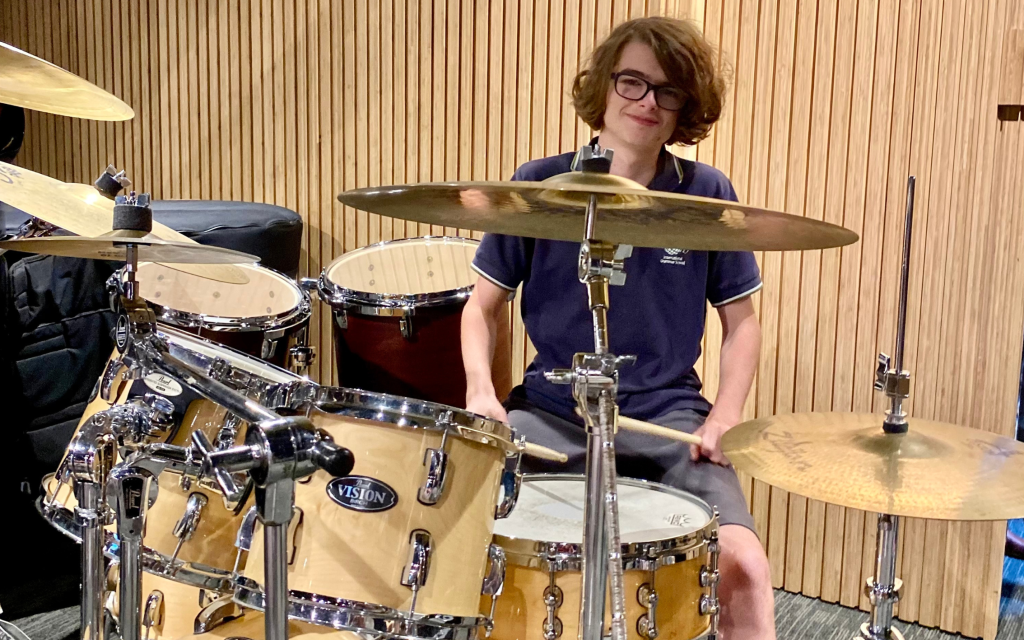 Stevie and Phoebe in Year 9 first saw the group perform at Artsfest in 2022 and describe themselves as "mega fans" of the band.
"It's a great way to get together on the weekend," explained Red, both his arms slung over the shoulders of his bandmates as he spoke. "We love to write songs, perform and have fun together."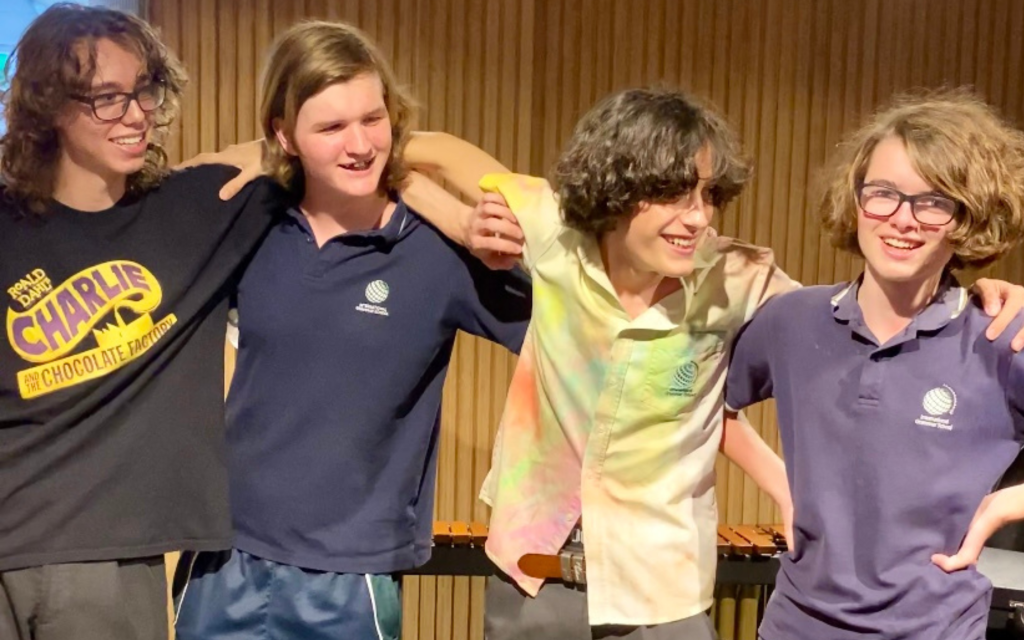 "We are so excited to be featuring live performance once again at IGS, allowing students to share their music talents with their peers and delivered in a venue that allows musicians to build skills in stagecraft and consider important elements such as program development and stage presence," said Director of Music Darren Kuilenburg. 
Performances such as these are part of the department's launch of the reimagined Contemporary Program, designed to provide extension opportunities for students interested in rock bands and sound production.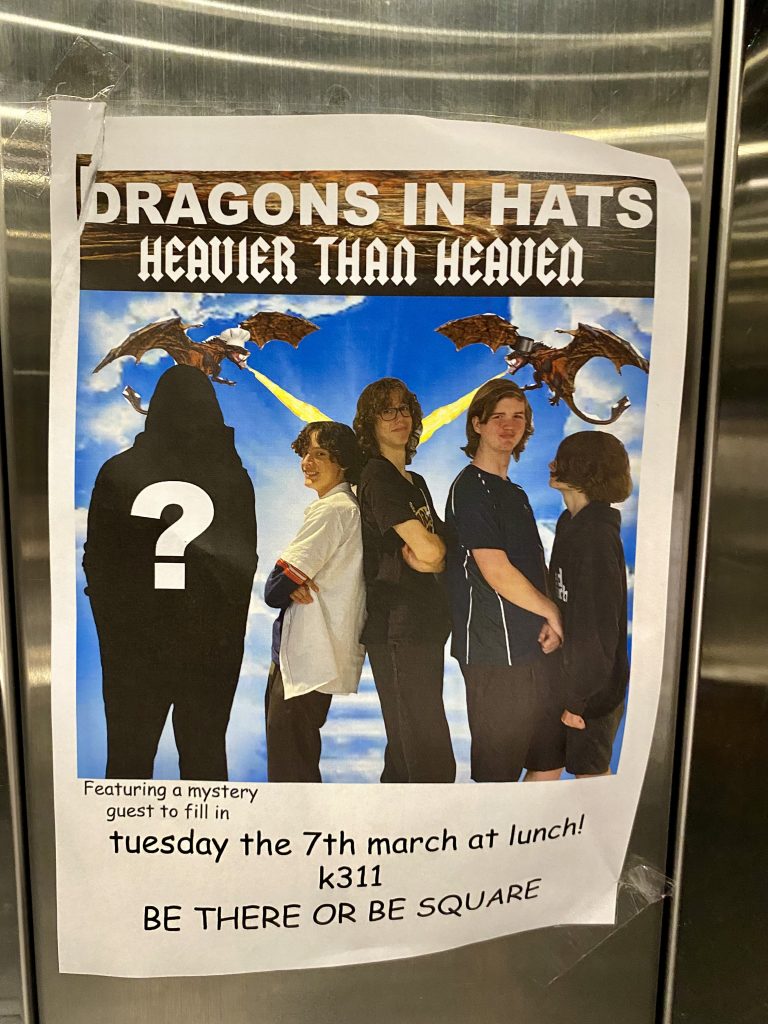 "Learning experiences in Rock Music, Audio Design and Guitar Ensembles are popular groups here at IGS," said Darren.
"If your child may be interested in participating in these programs, please complete our expressions of interest survey by clicking here."
If you would like to see Dragons in Hats play, the group will be opening for American singer-songwriter and activist David Rovics on 26 March when he plays an afternoon of anarchy at Addi Road in support of the organisation's food relief program. Tickets are available here.