These were moved last year because of COVID restrictions and the decision was then made to continue to hold them in the Bibliothèque, as the space facilitates the quiet reflection that is so important for students to experience as they remember and commemorate the fallen and learn more about our history.
Bibliothèque staff created beautiful displays to mark this solemn moment on the national calendar. Head Boy Madiba Doyle-Lambert and Head Girl Zahra Moloobhoy and Heads of School spoke at the Assemblies. Henry Egan of Year 11 played The Last Post and Reveille with skill, control and fine musicianship. A pin drop could be heard as a minute's silence fell over each service.
Each year, the Principal delivers the ANZAC Address to Years 3 to 6 and another one to the students in the High School.
Below is this year's Principal's Address to our Primary School:
Let's go back, more than 100 years, to the First World War. It was 1915, and young men from all over Australia left towns and cities for the promise of a brief but grand adventure.
The soldiers imagined a glorious war, on horseback across open fields, much like wars of years gone by. This was after all, The First World War, The Great War, the War to End all Wars.
Young soldiers in Germany were told by their Kaiser, "You will be home before the leaves have fallen from the trees."
But sadly, this wasn't to be. Soldiers on all sides were engaged in a form of warfare called trench warfare which had never been seen before. Many young men lost their lives.
Today, it's remembering and commemorating these young men who never returned, that I want to focus on.
I was fortunate to have my great grandmother in my life until I was 10. Her name was Eliza Cousins. We called her Granny Lil. I remember how she would mention the war, and when she did, a sad faraway look would come over her eyes. I always wondered why.
What I didn't know was that her twin brother James had been killed in action in a place called Flanders Fields in Belgium just a year after joining the war in 1916. James left behind his wife Elizabeth and their baby girl Beatrice.
Today James Cousins is one of the thousands of fallen Australian soldiers whose name is on the Menin Gate in the town of Ypres in Belgium. On finding out about James Cousins' story, I decided to take the sad journey through the north of France and up into Belgium. I wanted to get closer to my Uncle James. I also wanted to discover more about this terrible war and its impact on my family. Today, I want to tell you about that journey.
Autumn in the north of France is utterly beautiful. Ancient villages dot the landscape which is flat as far as the eye can see. The stillness of the place is haunting. In the silence, with the gentle breeze blowing, 100 years melt away, and you conjure in your mind's eye soldiers marching across the fields.
Driving north I was reminded of the paintings of Arthur Streeton, one of our best loved landscape painters who was also official war artist in the last year of the war. His paintings of the battlefields capture a peaceful rural landscape but with artillery fire in the far distance.
Today, the battlefields of France and Belgium are landscapes of rare beauty and loss. The war cemeteries that sit gracefully along the landscape are maintained and cared for by the Commonwealth war graves commission. Getting out of the car and wandering through the cemeteries I saw neat row upon row of familiar Australian names beneath simple white crosses – respect for those young Australian men who never came home and lie in these hallowed grounds.
No wonder people believed that the bright red poppies that grew in their thousands in these battle-scarred fields during and after the war were the earth's expression of grief, holding as they did, so many young soldiers. The red poppy remains a symbol of remembrance to this day.
As I crossed the border into Belgium with the long road ahead cutting through the fields, I thought of John McCrae's poem, In Flanders Fields. McCrae was a Canadian doctor who wrote the poem after losing a dear friend in Belgium in 1915:
In Flanders' fields the poppies blow
Between the crosses, row on row,
That mark our place: and in the sky
The larks, still bravely singing fly
Scarce heard amid the guns below.
We are the dead. Short days ago
We lived, felt dawn, saw sunset glow,
Loved and were loved, and now we lie
In Flanders' fields.
Take up our quarrel with the foe;
To you from failing hands we throw
The torch; be yours to hold it high,
If ye break faith with us who die
We shall not sleep, though poppies grow
In Flanders' Fields.
I reached the Menin Road where my great great uncle James had died over 100 years earlier. I stopped the car, got out and looked at the flat farmlands all around. I contemplated the loss to James' family and to my great grandmother who, like so many who were left behind, were never able to utter a word about their loss. I got back in the car and drove on to my final destination, the Menin Gate.
This magnificent memorial arch, hall of memory, memorial to the missing, graces the entry to the town of Ypres – a beautiful medieval town where time really does seem to have stood still.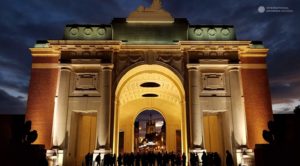 As I took this photograph I was struck by the thought that the vista before me would have looked much like this to James and to all of the soldiers who marched from the town out to the battlefields.
90,000 soldiers remain missing in this part of Belgium alone. The Menin Gate records the names of over 54,000 of the missing in Belgium. The names of Australia's missing, including James Cousins are engraved on the walls of the Menin Gate.
Ypres is a special place. Every night at 8pm the Last Post is played under the memorial's great arch. The people of Ypres wanted to say thank you to the soldiers who had given their lives for Belgium's freedom. And so every night, come rain, snow or shine, in front of large crowds, or in front of nobody at all, buglers play the Last Post. This has happened each night since 1927, when the arch was opened.
I found James Cousins' name and put a poppy there, along with all the others who had made the sad journey that I had made. I felt sorrow, deep sorrow. But somehow James' name carved in the stone 100 years on meant something to me. Something weighty and significant. James didn't have a life beyond the young age of 27, so it seemed right that his loss should be marked in a respectful way, near where he fell. I left Belgium, and I was glad that I had visited the Menin Gate.
Stories of the first world war, family stories like that of James Cousins should continue to be told by those who follow so that we can learn from the past.
ANZAC day is such a sad day on our national calendar. It's a day to honour and respect the fallen. As a nation we have suffered terrible losses across all theatres of war at which Australians and the world have fought and continue to be deployed to this day, sadly, tragically, is still at war today.
The war memorials of WWI capture our desire for respect, for beauty, for reflection and peace.
Here at IGS and across Australia, ANZAC Day is about taking time to stop and remember, to learn about our history, to think about individual courage and the heartbreak of war, and finally to play our part, no matter how small, to develop a much-needed vision of peace for us all.
Shauna Colnan
IGS Principal