"More than 50 per cent of the world forest is gone and we need to save the other half!" said Head of Sustainability Carmelo Fedele.
Along with IGS Mathematics Teacher Noah Armesto, Mr Fedele has volunteered to remove half his hair and beard on 31 August 2022 to raise awareness and funds for
Half Cut
.
"Rainforests are one of the most important natural resources left on Earth. Giving us clean air to breathe, a stable climate, plants that produce medicine and they are also home to thousands of unique animals that depend on their protection for survival."
IGS Sustainable Futures is encouraging students, staff and parents to take part in the IGS team. There are two ways to offer support:
Join the team by registering an account, fundraising and then going half cut (cut, colour, braid your hair or shave half your beard)
Donate to someone on the IGS Sustainable Futures team.
"We're aiming to raise $5,000 which will save approximately 2000 square metres of the Daintree Rainforest."
To spice things up this year, the winner of a raffle will get the chance to shave Mr Armesto or Mr Fedele's beard! Simply make a donation to either teacher and make sure you register your name.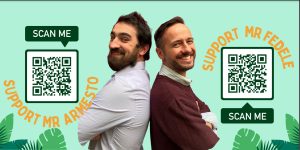 View the full flyer
here
.