IGS Principal Shauna Colnan congratulated Isabella for topping her HSC course in 2022, along with Jonas Meyer of IGS, who topped German Extension and came third in German Continuers last year.
"I feel like I've left school on a good note," said Isabella, who attended a ceremony with Education Minister Sarah Mitchell and other first place getters this week.
"The ceremony was really good. I felt like they understood all the work that students put in."
Isabella advised other students wanting to do well in their HSC to "rely on the support system you have at school, and home and with your friends".
"Look to your teachers to help you if you want to succeed," she said. "They really understand, so they can help you."
Isabella hopes to study engineering and architecture at university next year.
"I'm so thrilled for Isabella!" Ms Colnan said. "She has reached these exceptional academic heights in Spanish Continuers through sheer hard work and a deep love of learning.
"Isabella really deserves this fantastic result!"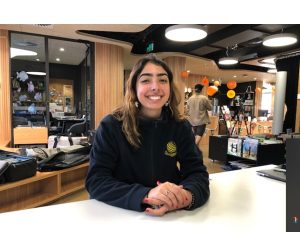 Isabella joined IGS in Year 9 and said she enjoyed the "welcoming" environment and the opportunity to explore cultural differences between Spain, France and Australia through her studies.
We're so proud of you, Isabella!
View more HSC highlights from the class of 2022.