"IGS has been producing outstanding human beings for nearly 40 years," said Director of Advancement Paul Galea.
"The School would like to recognise the contribution that some of these people have made to the greater community with this award."
Criteria
1. The candidates must be nominated by another IGS alum.
2. The candidate should have made a significant difference in their community.
3. The candidate should exemplify the IGS core values of Diversity, Personal Achievement, Connectedness, Vibrancy and Authenticity.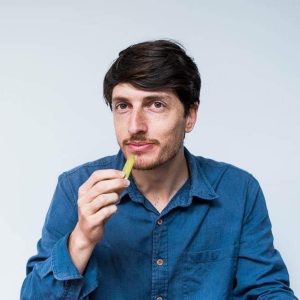 Nicholas Jordan (2006) was unanimously selected by a three-person panel made up of Principal Shauna Colnan, Director of Advancement Paul Galea, and long-term and respected staff member Lucy Howard Shibuya.
An individual trophy and a perpetual trophy will be awarded to Nicholas at Speech Night at the State Theatre.
Nick received separate two nominations from people who were 12 years apart at IGS. Here they are:
Nomination 1
I saw your posts regarding "Alum of the Year" and I just wanted to nominate Nicholas Jordan.
I know Nick through UNSW where he is the "publications coordinator" at Arc. That is, he heads up all of the student publications on campus.
Funny enough, we didn't know we both went to IGS for over a year after we first met until he was reading through the Jigsaw magazine this year and saw an image of me. Haha.
I wanted to nominate him because when I first arrived on campus, I shifted through quite a few groups of people trying to find where I fit best. This was until I ran across Blitz (Student Media) where I felt most at home, in part because of this man.
Whether I had a unique video idea or wanted to implement fresh changes to Blitz, he was always there, enthusiastic to help. He would come early, stay late after shoots, or offer advice, and always had time for a chat, whether that be with me, or any other members of Blitz. Considering how well we got along, it wasn't a surprise then when I found out he was an Alum of IGS.
He is also currently working on a startup that helps people find community-rated restaurants focusing on a diversity of cuisine called Have You Eaten which seems to be going well.
Sometimes it is the small things that make the biggest difference.
And a second nomination…
I am writing to nominate Nick Jordan (Class of 06) for Alum of the Year.
Nick is the most community-oriented and connected person in my life. He is engaged with diverse groups of people based on a wide range of shared loves. His work in food media has been featured in a range of publications, and his commitment to engaging with the communities who brought their culture and cuisines to Australia has opened the eyes of readers to a rich and rewarding element of the food we all enjoy.
Nick is committed to elevating the voices of others, including in his work with Diversity in Food Media; the Have You Eaten app and website; the Local Knowledge column for Broadsheet Sydney; and as publications coordinator at UNSW ARC where he supports student editors of university publications. He has taught ethics to primary school students, and taught us all about the art of friendship and community!
IGS has produced some stand-up people, but Nick gets my vote for Alum of the Year.
Note from IGS Director of Advancement Paul Galea
A personal anecdote from me, Paul, about Nick, which demonstrates his commitment to community. When I asked if he could attend Speech Night to accept his award, he told me apologetically that he could not as he ran a community dance group on Monday nights.
When I (selfishly) complained, "Couldn't you miss one night of dance??" Nick replied, "I'm the only one who takes it and if I'm not there, they will miss out."
Congratulations, Nick! It is extremely pleasing to have an inaugural Alum of the Year who is so dedicated to giving back to his community!