The gathering for Highly Accomplished and Lead Teachers (HALT) focused on building momentum of teacher expertise. 
They worked with leading thinkers to develop skills that equip them to lead and inspire colleagues and collaborated with other Highly Accomplished and Lead Teachers.
"This has been an excellent opportunity to attend inspiring workshops which allows us to brings back some great ideas to IGS," said Irina.
"Some of these included cultural competency, effective project implementation and mentoring early career teachers.
"As Nationally certified Highly Accomplished Teachers, we had the privilege of presenting to fellow HALTS in a Sharespace.
"Michelle presented on 'Hook your students', focusing on deeper engagement in the classroom. I presented on 'One size does not fit all', exploring strategies to differentiate in the Modern Languages classroom.
"Of the 350,000 teachers Australia wide, there are only 1,025 HALT teachers."
Irina Braun and Michelle Weir are shown below with Emeritus Laureate Professor and Chair of the AITSL Board John Hattie.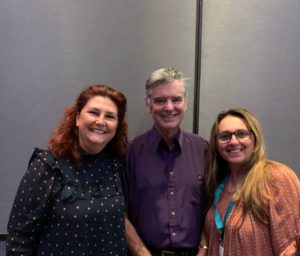 .
"The best thing about the summit is that we have the opportunity to get together with like minded teachers. Everybody is full of ideas and loves to share them," Irina said.
"Shauna has created a very positive and supportive environment at IGS in regards to accreditation and national certification. The Experienced Teacher accreditation attracts most interest and every year a respectable number of teachers in Primary and High School embark on this journey."
Irina and Michelle work closely with IGS colleagues in the High School, Primary School and Early Learning who are improving their skills and upgrading their own accreditation.