"As the bus pulled away from Bay Street we caught a glimpse in the mirror of the PDHPE staff preparing Wentworth Park for the IGS Cross Country," Mr Board said.
"The disappointment of an unfortunate clash of calendar events was softened by a magnificent Autumn morning setting the scene for the opportunity for two very successful events."
Students who missed the Cross Country event due to the football have been offered a make up run on Wednesday 11 May at 7am at Wentworth Park.
"Teams from Moriah College, Emanuel School, The Pittwater House School, Galstaun College, Reddam House and SEDA provided tough competition as we competed for top spot in all divisions from Senior Girls and Boys, 16's Boys and 15's Girls," he said.
"Alumni Coaches Boris Dragas, Morris Shaner and Jamison Power were instrumental in helping our teams mould their individual talents into cohesive teams which experienced some fabulous success, scored some awesome goals and grew in confidence and skill development.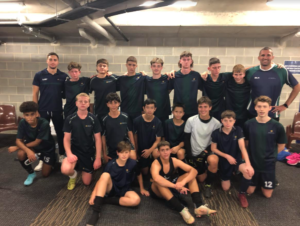 "Special mention to Head of High School Anthony Dennehy who graciously volunteered his time and help to gel the IGS students together with his passionate encouragement and entertaining sense of humour!
"Final results saw our Under 16 Boys make the final against Pittwater House, and without doubt IGS was the stronger side. Our Senior Girls competed well and came fourth overall and 15's Girls and Open Boys were unlucky to not feature on the winners list with some fabulous individual and team skills shown throughout the day."
We hope to have a number of our students selected for the CDSSA team following this event.
Congratulations to everyone involved.