The portrait was created by fellow IGS student Isabella (Issy) Matthews, who is rightly proud of her achievement.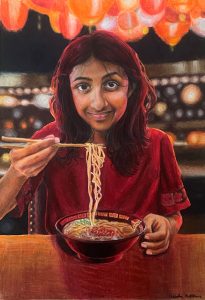 "My portrait is of my close friend Luella," said Issy.
"She has been a massive role model and an inspirational and supportive friend throughout my first high school year and has given me motivation and support in my lows and highs.
"I wanted to thank her by creating this drawing."
The competition is run by the Art Gallery of NSW as part of the Archibald Prize, and attracted many applicants aged 13 to 15. The Young Archie subject "must be of a person who is special to you – someone who is known to you and who knows you and plays a significant role in your life".
"I was actually meaning to draw Luella when I initially had the idea." said Issy.
"I was going to give it to her for a gift since I wanted to draw someone anyway and I thought she'd be a great reference.
"Then I realised the Archies was on and I asked Luella if it was okay to enter it first, before I gave it to her, since she would be a great fit for the criteria of the competition. She said 'yes' and that's how this all started."
Issy has created a number of portraits.
"I mostly draw/paint for fun, so I have lots of practice, and I think I just enjoy it because it's something I can be proud of and it's fun.
"I'm really happy and amazed at how far my drawing skills have come. It really does feel like a big achievement considering the hours I put into creating art."
Luella said she felt deeply honoured by the privilege of being Issy's subject for the portrait.
View Luella and other finalists. Congratulations to you both!