For the past three weeks, Year 12 has been hard at work taking on HSC Trials. From Chinese to Chemistry, Music to Maths, our students have given it their all. The tests are the last internal assessment in preparation for Higher School Certificate exams later this year.
Among the activities in this busy period, students participated in rehearsals for their HSC Drama examinations.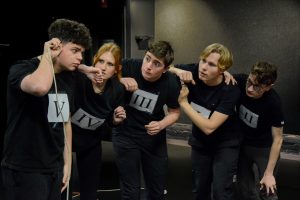 Head of High School Anthony Dennehy commented, "I want to congratulate the students on their application and commitment throughout the weeks leading up to the Trials and the period itself, all the while juggling language orals and the wrap up of Major Works."
While our students focus on preparing for their tests, our dedicated teachers have been unwavering pillars of support, offering guidance and insight at every step of the way. They have been instrumental in helping students navigate the intricacies of their respective subjects.
Huge thanks to all those working hard behind the scenes. Heads of Departments have been busy writing, printing, and securing the trial exams, as well as writing backup exams for those who may be away. Head of Daily Operations Amanda Fajou has worked tirelessly with Deputy Principal Academic Thom Marchbank and Head of Academic Data Dean Mackrell to organise the exam schedule and liaise with both High School and Primary School staff to secure rooms.
"A huge amount of time and effort is also put into supporting our Disability Provision students and making sure their exam needs are met," Amanda said. "It's a great team effort."
Mr Thom Marchbank added: "I am inestimably proud of the hard work and preparation that students and staff put into this Trial period. We moved back to the larger exams in the School Hall so that we could ensure as smooth an experience for students as possible, and this reaped enormous benefits in ensuring a calm and collective experience for our Year 12s, as well as minimising disruptions on the rest of the School. Staff were proactive in the design of the Trial timetable and the papers that were presented to students, offering them an authentic and rich chance to show what they know and can do.
"Fifty-five exams were run over more than 12 days, and students responded very positively to the questions and papers that were before them. Although examinations are only one type of assessment, given that the HSC itself is an exam, this was an important experience for our class of 2023 to undergo. Considering the enthusiastic, measured way with which they approached the challenge, I am very confident for them for the HSC itself!"
We wish every success to our hard working students.