The Principal of one of the longest-standing IGS exchange partners, in Montpellier, in the south of France, kept in touch with IGS Principal Shauna Colnan after she visited our exchange partner schools in 2017 to sign formal Memoranda of Understanding.
Ms Colnan said she was thrilled that the visit had led to this new opportunity to equip IGS students to be world ready.
"It's part of the rich heritage and the strategic direction of our School to curate expansive opportunities for our students, locally, nationally and globally," she said.
"Exchange is all about deeper learning. It encourages our students to be adaptable, and to strive and flourish.
"When Monsieur Diot moved from Montpellier to Lycée Aristide Briand in Évreux Normandy, we started planning a new exchange partnership between our two schools, which will happen this year for the first time," Ms Colnan said.
"So while some of our students will travel to Montpellier and to our other European partner schools, and vice versa, we have expanded opportunities, so that a number will travel to Aristide Briand, in Normandy, just an hour from Paris, very close to Australian war cemeteries and rich in history."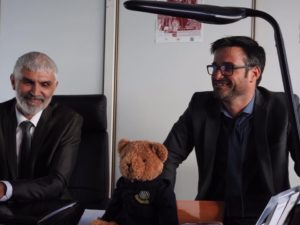 "We are excited to be resuming our exchange program with our European exchange schools," said Acting Director of Languages Teresa Alonso-Lasheras.
"At the end of Term 2, we will be welcoming 17 students from France, four from Germany, seven from Italy and two from Spain.
"We have a few extra European students coming to Australia this year and we are looking for families in our community willing to host these students. Japan is still on hold but we hope to begin this exchange again in 2023.
"Hosting an exchange student can be a very rewarding experience for families. There is no need for host families to have children of the same age or who speak the language of the exchange student, since students are here to learn English and experience life in Australia. Still, it is a great opportunity for those families whose children are learning the language of the student, to practise their skills and learn first hand about them and their culture."
Interested families should contact Acting Director of Languages Teresa Alonso-Lasheras at teresaa@igssyd.nsw.edu.au.