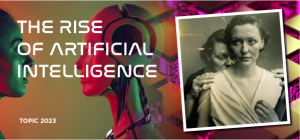 The annual IGS Global Scholar's Prize is an award for an outstanding student essay that addresses issues of global complexity. The prize began in 2014, and is open to all IGS High School students.
Principal Shauna Colnan is pleased to announce that the topic for 2023 is: 
Explore the Rise of Artificial Intelligence.
AI technology is proving to be a game changer with enormous implications that we are only just starting to envision. This gives interested students an academic opportunity to explore its trajectory, impact and possible futures in this year's IGS Global Scholar's Prize.
The prize will be awarded at Speech Night with the winner's name inscribed on the Perpetual Global Scholar's Trophy. The selected essay will also be published on the School's website and in the 2023 Speech Night program. 
The essay has a 1000-word limit, and applications close on Monday 30 October 2023. For more competition details and helpful information, please click here for the brochure. All entrants can seek individual academic mentoring from Ms Colnan over the writing period.
Ms Colnan encourages entrants to reach out to her directly in the coming weeks.
We wish students every success in this year's Global Scholar's Prize.