IGS Teddy: Hello, Paul.
Paul: Hello. Is that the IGS Teddy Bear?
IGS Teddy: It is. How are you?
Paul:  I'm well, Teddy. How are you?
IGS Teddy: Um, I'm a bit tired, Paul. You know, you are normally the interviewer. Why are you being interviewed by me, the IGS Teddy, today?
Paul: I'm being interviewed because these are really exciting times at IGS, for someone in my position. There are three really big things coming up soon. On Friday, we've got the 20 Year Reunion for the year of 2002. On the 26th of November, we've got four year groups having a 10 Year Reunion. Obviously COVID interrupted those, so what we're trying to do is put them all together in a big venue and just have a whole heap of fun. That's exciting. The tickets will be going on sale for that early next week. But the thing I'm really excited about is Giving Day. Giving Day is coming up on November 9 and it's a very, very special day at IGS.
IGS Teddy: Why is Giving Day such a special day at IGS?
Paul: I'm glad you asked that, Teddy. It's almost as though that question had been put to you to ask. It's very special because Giving Day is all about opportunities. It's all about giving our students opportunities that school fees alone do not present. I'm talking about building new facilities. I'm talking about putting new programs in place. I'm talking about giving members of our indigenous community the opportunity to excel at our school. To me, the opportunity, and I keep using that word, but it is the word, it is the opportunity for the IGS community to get together and create something special which is why this giving day is extremely important.
IGS Teddy: What about opportunities for Teddy?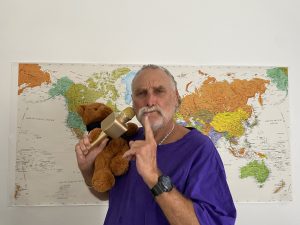 Paul: You get plenty of opportunities, Teddy! You just put me off there, Teddy.  The other thing that I'm interested in saying as well is that we've got a 'matching donor' situation where people can provide some funds and when other people give a donation, it's almost like getting a double donation, because what these people give, the matching donor will  match with an equal contribution. So if there's anyone out there who could be a matching donor, I'm looking for people who could maybe put in a donation of $2000 or around that or more, if they feel comfortable with donating that. Anything like that would be really helpful so that we can make the most of this Giving Day. We have already had some extremely generous matching donations from the IGS community which has been really lovely but we need  more! Thank you for calling, Teddy.  And I look forward to cuddling with you when we see each other in person.
IGS Teddy: Thanks, Paul.