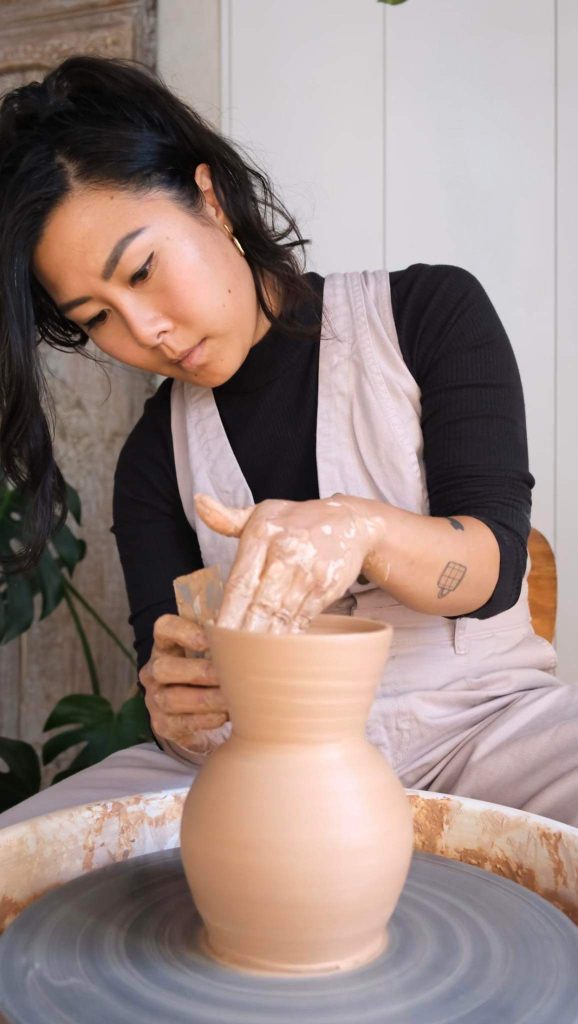 Nevena Zakhariev(2009)

Paul Galea:
Hello Nevena Zakhariev, it's Paul Galea from International Grammar. How are you going?
Nev:
Good. How are you today?
 Paul Galea:
I'm good. Thank you. So I'm ringing you up to find out what you're doing and how you've been going. I've got to admit that we met each other recently at a little reunion. And you were telling me a bit about your artistic life, and we're going to try and find out about that. So is that going to be OK?
Nev:
Yeah, that sounds great.
Paul Galea:
OK, so what you could do first is just tell us when you left IGS, what year you left. And then what you did, then what you're doing now and tell us a bit about the journey you took to get there. If there's anything I want to interrupt and expand upon, I'll just ask you a question about that. How does that sound?
Nev:
Yeah, that sounds great. So, basically, I graduated in 2009 and I think everyone was going straight off to uni. I think that was the pathway that we were, you know, supposed to be on and I did go to uni for about a month. I did not enjoy that at all, so I think that was a bit of a setback but I think I definitely needed that because I took a year off and travelled quite a lot and as soon as I got back to Australia, I knew I definitely wanted to be at uni. I was a lot more focused than what I was going in straight after high school. So I think that definitely helped quite a lot.
Paul Galea:
Yeah. Good. So just let me ask you there. Where did you go? Travelling ? And for how long?
Nev:
I worked odd jobs here and there for about six months and saved up enough. I travelled for about probably 4 to 5 months before having a bit of time back in Sydney and then going straight to uni. I went all over Southeast Asia and Europe.
Paul Galea:
Fantastic. OK, Yeah, that's probably a good thing. And you just thought you weren't quite ready for uni when you went the first time or …?
Nev:
Yeah, I think I was just quite unsure exactly what I wanted to do. But, the travel really helped. I visited a lot of art museums overseas, and it really cemented that I definitely wanted to pursue a creative career and, that I actually really loved the degree that I set out to do. So Yeah. Just went straight back into the same degree!
Paul Galea:
OK? And what degree was that?
Nev:
It was art education. So it was a combination of fine arts and education. So that, if you finished, you could, teach art in a High School or you could pursue a fine arts career.
Paul Galea:
OK, very nice. All right, so tell us about when you finished that and how you were feeling when you finished that?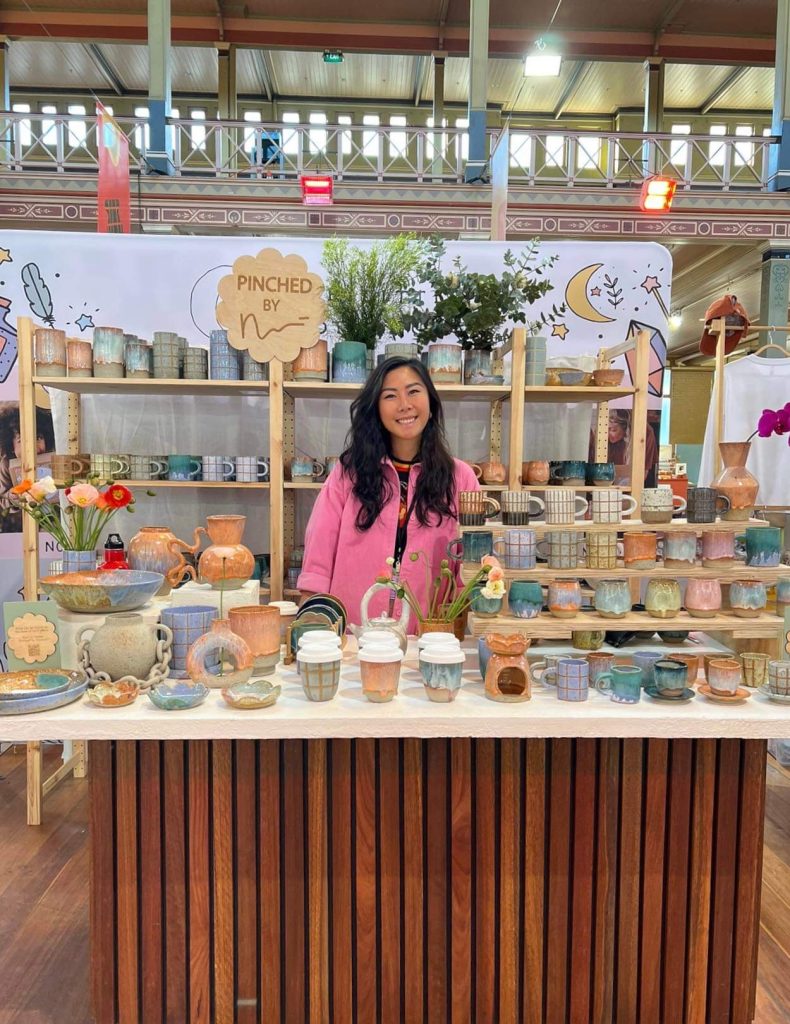 Nev:
I finished that in 2015. I think with my artistic career, I wasn't quite sure exactly what I wanted to do. I think I really liked drawing and painting. But I didn't really know how I could have turned that into, you know, like an everyday job and a regular career. So I went into teaching art for about a year. I think after doing that, I felt a little bit burnt out by having to work so much. It was a bit of a full on job to take on, I think. As you know, you're a teacher; when students come up to you, there was a lot of emotional input on your side and, yeah, so I found that quite challenging at times but I definitely really loved it. But I think that working full time, it took away from being creative. And in 2016, I just took up some pottery lessons just for fun but then it turned into more. I was doing pottery all the time in all my spare time and then I think about a year later, I decided to turn that into a full time business.
Paul Galea:
OK, let me stop you there. So obviously I can relate to the teaching — one of the problems with teaching is that it's a really energy sapping, time consuming, in terms of your head space, job.
Nev:
That's what I was trying to get at.
Paul Galea:
You managed to convey that pretty well. But you thought that that was really impacting on your time to be creative and your actual creativity. I can understand that because it is, sometimes it is exhausting mentally and physically. So you made a decision to step away from that a little bit to give yourself a chance to go into a more creative sort of space.
Nev:
Yeah, that's right. It was really helpful. We decided to leave Sydney at the time as well. So we moved up to a little town called Eureka, just about half an hour outside of Byron Bay and we stayed on a property, and we had a lot of space so I could set up my studio there and life was a lot more relaxed away from Sydney, so I had a lot more time to just concentrate on the ceramic side.
Paul Galea:
Very nice. And when you say we who are we talking about?
Nev:
Oh, my partner and I.
Paul Galea:
OK, Yeah. Is your partner in  the arts world or …?
Nev:
He was a musician for a long time. So we met because a few of my good friends, actually from IGS, went to the Australian Institute of Music. So I met my partner through Isabella Nurse and Jordan McDonald. So, Jordan managed the band. And Bella, she sang; she was the lead singer. And my partner was the guitarist in the band.
Paul Galea:
IGS coming to the rescue again!
Nev:
I know. Yeah, a lot of my very good friends to this day are still from IGS. So lots of happy memories there. Yeah.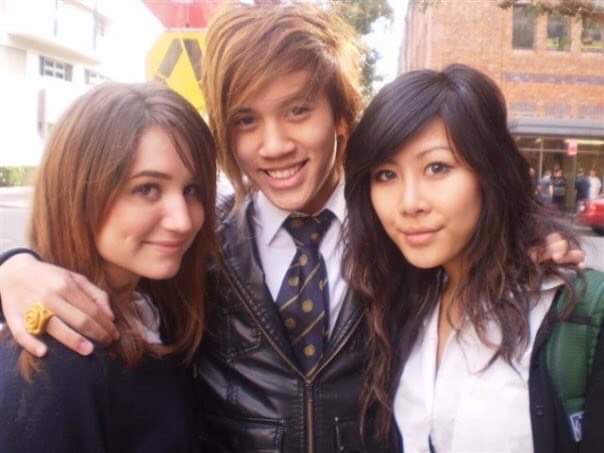 Paul Galea:
Nice. We'll talk about that a bit later. So you're up in Byron, or you're up in Eureka, near Byron, and you've got a studio, and then you start, I'm assuming, making a whole heap of ceramics and pottery.
Nev:
Yes. So I had a lot of time to concentrate on refining my form, my style. There wasn't any pressure of just work and the hustle and bustle of everyday life in Sydney. So I really enjoyed my time there. We were there for three years. Sometimes I still wish we were still there.
Paul Galea:
But after that time, you came back. And why did you come back, if you don't mind me asking?
Nev:
Yeah, we came back. So it was a year into the pandemic, and we were fine. We loved it up there. It was very peaceful. And the restrictions weren't, I don't think,  as strict as in Sydney. But it was a year into COVID, and we weren't sure at the time how long it would go for. So we were quite worried and a year into COVID, our families were quite worried as well, because, Byron is about nine hours from Sydney. So I think we had a chat with them and, decided, 'Yeah, maybe it's time to move back a little bit closer to family.' My partner at the time worked in hospitality, and with COVID that all went down the drain. So he decided to become a carpenter, an apprentice carpenter. We just had a bit more opportunity in Sydney.
Paul Galea:
OK. So at the same time, how's your  pottery going? Were you like, were you starting to make it into a business, or were you just starting? Was it something that you just we're trying to get going…
Nev:
So I think that time in Byron, really, it was instrumental for my business because I had so much time to put into making pottery and building up the business and the brand and there was a great ceramics community in Byron. It's quite a small community. They had lots and lots of events on and because it's such a small community, there were so many people attending these events, and I got to network and meet many other full time potters and chat about, you know, how they run their business, how they keep creating, with the stress of running a business as well. So that really helped because I definitely could make ceramics; I could make pottery. But I think on the business side, I didn't know too much. So the people that I met along the way really helped with building my business and putting the business together.
Paul Galea:
OK, we might as well get to it, because, as you know, or you don't know, people who listen to these podcasts know I love my interviewees to give their business a plug. So tell us what your business is called and tell us what it entails.
Nev:
Yep. So I make mostly functional ware ceramics and I hand-make everything. So they're very just beautiful occasional pieces to have in your home or to gift to loved ones. I hand-make everything myself. So I make sure that there's as little impact on the environment as possible. I recycle all my own clay. We're very lucky to have a solar powered kiln, so that helps with the impact on the environment, which I think is quite important and a core business module that I follow and I make sure that all our packaging is recyclable and biodegradable. I think life at IGS really made me quite aware from a young age about the impact that we have on the environment and trying to look after it. So that's just a little bit about my business. Yeah. It's called Pinched. Pinched by Nev.
Paul Galea:
OK, so Pinched by Nev. What I might do is maybe even put a link in the interview so that people can go directly there to have a look. Never hurts to get another customer, I always say! This is really interesting to me, though, because my own daughter has got her own fashion brand. And she has had very, very similar experiences in terms of having to get her head around the business side. The creative side, she's got well and truly under control. But the business side has been a challenge the whole way through. I mean, she sounds like you in that she's doing well, but it's been a pretty steep learning curve in terms of getting your brand out there and also being able to do all of those things that, you know, go with keeping your business afloat and making money.
Nev:
Yeah, Yeah, I think it's really hard. I don't think many people realise how hard it is running your own creative business. Because basically, you're the sole person like for everything, every aspect of the business. So you're the creator. You're the content creator on Instagram and trying to get your brand out there. You're the photographer. You package everything to send off to the clients, you have meetings with clients and you set up your networks and set up meetings, and it's honestly never ending. And I heard from a lot of business owners that generally, people who are more creative, they don't realise that aspect of the business and can find it quite hard. But yeah, I definitely found it very, very challenging. I still don't think I have everything on the business side, ironed out. Probably. I'm definitely still learning every year. Yeah, I think that's something that you have to take with running your own creative business.
Paul Galea:
Yeah, I think one of the things my daughter had it as an advantage, she reckons, is that she did Economics at school with Miss Blacker.
Nev:
Oh, really? That's so good. I wish I did.
Paul Galea:
Yeah, and she reckons, that's been a huge help, just in terms of  having a bit of an understanding of it. So, that's really interesting. In terms of when you're a creative sometimes that side, the other side of your brain, you got to engage it in terms of, you know, getting your business running and rolling and keeping it rolling. I think that's something that possibly is probably under estimated in terms of running a creative business. One of the things that we do is we put the interviews on to a website where the kids can go and listen to them so they can say, "OK, I want to have a bit of a listen to someone who is a successful creative," and they listen to you and maybe they do take business studies or they do do economics in their senior years. So very helpful.
Nev:
Yeah, I definitely wish I did that because all my subjects were very creative, but, it would have been definitely useful to have that other side and understanding, I think.
Paul Galea:
Yeah, of course. Yeah, Well, it is if you're going to try and make a living out of it, that's for sure. And so many of our kids do go into that creative world where they are making a living and trying to make a living with it. So I actually think it's got legs in terms of promoting it in the school itself. Now, speaking of the school, you do you want to tell us if you have any happy memories from school or things that you felt helped you in your life?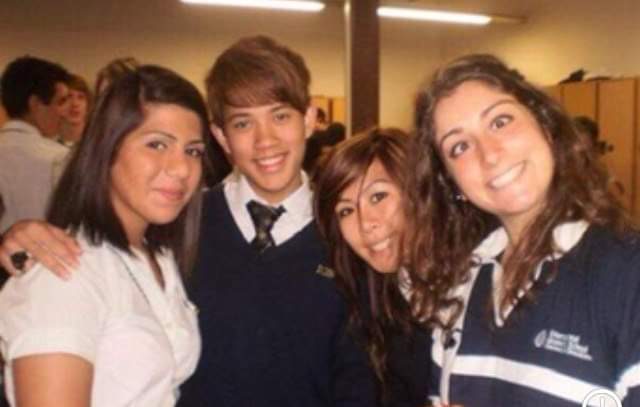 Nev:
Yeah. Honestly, all my core happy memories are definitely from IGS. I tell everyone I'm IGS's biggest fan. Lots of happy memories. I loved how it was very, very multicultural. I think when I left High School, I didn't realise how lucky we were to have access to so many different people and caring teachers and people from all around the world. I love that we definitely pushed the more creative side, I think sometimes high schools, they're very focused on getting good marks. You know, making sure you're academically excelling in Maths or English or Stem. But I think at IGS we definitely promoted all of that but there was also a really huge community for the kids who loved performing, who were really into their music or art. And we had all the facilities for that as well. So I think we were very lucky to have all those opportunities at our feet when we were so young. Yeah.
Paul Galea:
No, that's nice to hear. OK. And you said just before that most of your friends or a lot of your friends are still the old IGS people. Is that still the case now?
Nev:
Yeah, Yeah, I all my best friends are from IGS. And it's quite funny because I had lots of different friendship groups in IGS and I still maintain them So, we catch up pretty often.
Paul Galea:
Drop a few names.
Nev:
Yeah. Um, so some of my really great friends Georgia and Latitia; we had drinks with you just last month. Sam and Jordan McDonald I just saw them over the weekend. Sam's also running a wonderful creative art ceramics animation business. And he's a writer. So we had a great catch up. And when I lived up in Byron, Sam also lived in the Gold Coast, so we were only an hour away from each other. So we saw each other quite often through those years.
Paul Galea:
Ok, I wanna tell you something about Sam. I have tried to get that young person to get him to have an interview with me about 100 times. He is the hardest guy to pin down in the history of the world.
Nev:
Oh, he did mention that he was about to do an interview with you. So we were both chatting about that, actually.
Paul Galea:
Ok, well, if you see him, can you tell him to get in touch with me? So we can do it?
Nev:
I will. I will. And then Jordan and I and Isabella. We lived together for a long time, actually, after high school. So we were housemates, and that was a very fun time.
Paul Galea:
Yeah, that's lovely to hear. All right, that's very good. Look, I feel like you've kicked a few goals in your life, and you sound very, very settled, and you sound as though you know where you're going and what you're doing and you sort of talked a little bit about it at the beginning when you were talking about going overseas and sort of cementing what you felt like you wanted to do. But have you got any advice for the youngsters out there who might be listening to this? And they'd be listening to something that you would tell them far more than they would to their teachers or their mums and dads. Unfortunately, that's true!
Nev:
I yeah, I would. My advice would be to enjoy your time in high school as much as you can. They're the most, I think, one of the most carefree times of your life where you don't have any responsibilities. Take all your classes as learning opportunities, even though, sometimes, they might seem boring. You might seem like you have to go to school, but I can guarantee you that once you leave high school, you'll definitely want to be back and see your friends every day. And your teachers are on your side. They want you to do very well.  I think just really enjoy the community that's there in front of you. In terms of for your future, I think don't stress out too much. Don't feel like you have to tick your boxes like you have to go to uni or you have to do a certain career to tick a box. Just take your early twenties to figure out your life, have some fun, and then once you find something that interests you, really grab hold of that because that's the thing that will maybe develop into a very successful career. That career is something that you want to go and work at every day because it's your passion.
Paul Galea:
Yeah, do you know what? It's just great to hear that because that's what everyone basically says. It's a really common thing. Find something that you're passionate about and then work hard at it. And when you get an opportunity, grab it. And I think that sounds like exactly what you've done, Nev.
Nev:
And also make opportunities for yourself. So, yeah, take opportunities meeting new people. Put yourself out there a little bit. I think, after high school, I think we had such a great community that I wasn't used to putting  myself out there. I just feel like you can go out, meet new people and take every meeting as some kind of new opportunity.
Paul Galea:
Yeah, very good. One thing I agree with you, as well, is kids don't understand that school is the best time of your life.
Nev:
When you go out into that real world and have to become an adult, it's a nightmare; it's a big smack in the face, to be honest, but to really, really squeeze every ounce of that. You know, the little responsibility you have at the moment.
Paul Galea:
Yeah, they don't understand that. Thanks Nev. That's been really brilliant. I really appreciate the chat. Actually, that was really nice catching up with you for that little mini reunion the other time. And we might try and do something again with you and your mates.
Nev:
Yeah. Yeah, that was so fun. Thanks so much.
You can see Nev's work on Instagram and on her website.