Eddie Jones worked at and was acting Principal for a period of time during the 1980s and early 1990s. He later became an international Rugby coach. 
Ed: Hello Gal. The Roosters had a good win. Did they?
Paul Galea: Yes, they did, Ed Jones. We're not allowed to talk too much about football because anyone can talk to you about football when they're interviewing you. I'm going to be talking to you about your time at International Grammar, which basically you were at from nearly day dot. Weren't you?
Ed: Yeah, not too many days after they started, I remember having an interview with Reg St Leon and him offering me the job. So, yeah, at that stage, we were all looking for jobs. It was great to get a job and to be part of such an exciting project, mate.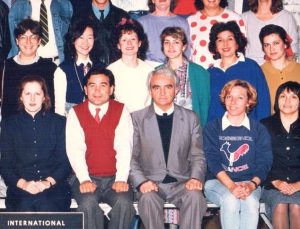 Paul Galea: And what did you start off at the school as?
Ed: As a Geography teacher. And I taught other bits and pieces because there wasn't much PE because there was only 30 kids in the high school. I was also teaching a bit of Maths at a rudimentary level.
Paul Galea: And can you remember some of those early days? Some of those old stories about how tough it was and some of the some of the interesting parts of the job.
Ed: Yeah, I can remember, early on, going into the Elizabeth Arden factory in Riley Street, Surry Hills with one of the board members at that time, spray painting the roofs of the classrooms to make them more palatable for the kids to study. So that was a fun way to spend weekends! And the other thing I remember; I think we went without pay for about six months to keep the school afloat, because we believed in the project.
Paul Galea: Now that's a really interesting part of the history. When you look at the school now, what do you think? I know you sort of keep an eye on it and you're still interested in it; you ask me a lot of questions about it. Just to disclose that you and I went to university together and have been friends for a long time now. You were the one who gave me my first job at IGS in 1993 when you were the Acting Principal. I had just come back from overseas and you got me on board. What are your thoughts when you see it's got 1500 kids and it's a thriving community and been going for nearly 40 years? What are your thoughts on that?
Ed: Well, I think it shows you how important it is to have a vision and being courageous in wanting to make it happen. Reg had a vision of providing bilingual education for kids, creating a slightly different private school in the eastern suburbs and then having , I think, the courage to persevere and to keep at it. When I look at the school now, you've got nice campus in Ultimo. The school's going gangbusters, providing again a different sort of education for kids who need a different sort of education and I couldn't be more proud of what the school has done and to have been associated with it has been a real privilege.
Paul Galea: That's good to hear, mate. And then once you left the school, you went on a pretty different path, and it's a pretty celebrated path. I'm interested in knowing and for people to know what led you down the coaching path, some of the trials and tribulations you went through and some of the things you learnt along the way. I think that's the most important thing. 
Ed: Yeah, well, I was Acting Principal for 18 months, and that was a very fulfilling job, but a very difficult job because the school was still going through the growing up process. So we had 70 odd teachers, 700 kids and 1400 parents. That was the hardest job I've ever done. And then I got to the end of that and became the Project Director, which I did for a couple of years and helped set up the sister school in Ho Chi Minh City in Vietnam, which was a pretty exciting project and I really enjoyed that. But I felt like I was coming to the end of a good stint there. The game of rugby went professional and I got an offer of a job to go to Japan and coach professionally at Tokai University. They were a struggling First Division university team. University rugby is huge in Japan, played by all the biggest universities, and it's quite a prestigious sport. So I took that job up. I remember having a meeting with the chairman of the time, Gerry Gleeson, who was a sportsman himself, a big ruckman for Melbourne in their glory days and he encouraged me to have a go at professional coaching. So I went off, did that, went to Tokai University for 12 months; didn't improve them at all. They didn't get any better, but it certainly improved my coaching because we had 120 kids there and I was the only coach, so I split them up into three groups and coached for two hours each. I was coaching six hours every day. I absolutely loved it and then was lucky enough to get a job at the Brumbies. And I've been lucky enough from there to coach International rugby.
Paul Galea: So at the Brumbies; I'm going to put this reasonably simply. You changed the way that Rugby was played with the way you were coaching the Brumbies and you had a lot of success with it. You want to give us a bit of a quick rundown on not so much the football side of it, but the thinking behind what you were doing?
Ed: Yeah, well, we had to be different. I think that whenever you're trying to be successful or trying to create a good environment, you have to look at where you are and where the gap is. And then how do you fill the gap? So we had to play a slightly different way, a more structured brand of rugby to beat the bigger, more physical New Zealand and South African teams. And we did that and it was the most collaborative coaching I've ever done in my life. We had six or seven really key senior players who all contributed probably more than me. We put together a plan and we all worked. It's no different to a good school where you get the senior students playing their role in ensuring that the school has a set of standards, has a set of values, and with the teachers they form a partnership. And it was like that at the Brumbies and you know, we became the best team in the Southern Hemisphere, which was fantastic from a little place like Canberra. You know, it's got 100,000 people, and is not really a rugby town. But we made rugby the biggest ticket in town.
Paul Galea: I think that's interesting because you always told me that coaching was a lot like teaching. I think it's also interesting that the whole idea of collaboration and the whole group been on the same page leads you to get results.  I also always think that one of the things that I've learned from you is that if you're just doing the same thing, nothing's ever going to change.
Ed: You've got to!
Paul Galea:  If you want things to change, you got to try different things and that worked at the Brumbies. Then you've got picked to coach Australia.
Ed: Yeah, which was good and bad, mate. We got to the World Cup Final in 2003, but then I needed to rebuild the team, and that's always difficult. When you're rebuilding a team, any sort of team, you've got a bit of a gap in cohesion. You've got a gap in in understanding and sometimes it doesn't work. And, you know, in 2005, we lost a number of games. I ended up getting the sack and you about think your life.  You think, "What do you do next?" You're the national coach of the country you love, and you get sacked. I can remember going home and my wife saying, "All right, where are we going next?"
I was lucky enough to meet my wife at International Grammar School.
So not only my best mates like you were teaching there, I met my wife there! So, then I thought, "Well, we're on a journey, a coaching journey. Where are we going to go?" I got offered a job with South Africa, won the World Cup in 2007, went off to coach in England for a while and then ended up in Japan by by sheer coincidence. Hiroko, my wife, was a Japanese woman who left Japan because she didn't enjoy living in Japan.
She wanted to live in Australia, and then we end up going back to Japan and living and having some pretty good success with the Japanese team, which was interesting. It's funny how the cycle goes, you know, having started in bilingual education. I went to a country where I had to coach in a different language, and my linguistic skills are at best limited. So I spoke this rough and ready version of Japanese that my wife's embarrassed for me to speak in front of her.  She's always a school teacher.
Paul Galea: I will say this, knowing you reasonably well; I would imagine that your Japanese was pretty short and sharp and to the point!
Ed: Yeah, articulation's never been my great strength, mate.
Paul Galea:  Well, there's been a movie made about when you were coaching in Japan! It was made about when your Japanese side caused the biggest upset in rugby history when you beat South Africa in the World Cup. Is that out yet? That movie?
Ed: Yes. I don't think it's a huge success. Prime video. It was "The Miracle in Brighton" and the guy from New Zealand, the actor who's in "Once Were Warriors" plays me. He does a fairly good job, but yeah, it hasn't been a big box office hit!
Paul Galea: Uh huh. It's not a bad trick to get a movie made about you as a coach, though!
Ed: Yeah, it's alright, mate.
Paul Galea: So then you stayed in Japan. You've got good connections in Japan because you've been working with Suntory over there for many years. Tell us how you ended up being brought over to England to be their coach.
Ed: Yeah, after the Japan World Cup in 2015, I wanted to go coach in South Africa. I always had this desire to coach in one of the major rugby countries; either South Africa or New Zealand and New Zealanders aren't real keen to have Aussies over there where South Africa were. So I took up the job as the head coach of the Stormers(based in Cape T own) who'd never won a Super Rugby competition. So I was really looking forward to doing that. And I was literally there for two weeks. I had about 10 boxes in my office, I was ready to go move into a nice apartment in Sea Point and I got a phone call from English Rugby Union saying that they'd like me to interview for the English job.
I'd never ever had any desire to coach England because they are always the arch rival but they had a bad World Cup in 2015,  and I thought, "Why not?" I'll have a chat to them. So I had a chat, was really impressed by the CEO who I got on very well with. And then I got offered the job, literally two days later. I had all my summer Cape Town clothes with me because that's the only things I took. And I trotted off to the middle of winter in England, which begun a seven year stint there.
I am still struggling with the weather, mate. And now I come back to Australia and it's freezing here, mate!
Paul Galea: It's been raining here for six months now! Look, you mentioned about England being the arch rival, so I'm going to bring this up. Many people would be aware that you reacted pretty strongly to some idiots in the crowd calling you a traitor after your win for England against Australia in the third Test. I'm just interested in your thoughts on that. I know you're a very professional person, but when you talk about the arch rivalry and you're an Australian and a very proud Australian, how do you reconcile that conflict?
Ed: Yeah, well, I don't really think I have a conflict because I'm a coach. I want to help players. It's like being a teacher at International Grammar School and then moving to another school. My job as a coach is to make the players better. And whilst you always want to coach your own country – I didn't divorce Australia, Australia divorced me! I could sit in Australia and weep about not being involved in Australian rugby.
But I chose to take a different path and explore the world.
So you know, I love that ability to coach another country and understand another culture, mate.  Coaching England is difficult for me because they play differently to how I like to play, their players think differently to how I'm used to coaching. So I've had to adapt and grow, and I've really, really enjoyed it again. I've learned so much about another society and another culture, and again just reinforced the importance of having a bilingual education because that opens your mind to the possibilities of what you can do in the world.
Paul Galea: Yeah, well, I agree 100 percent with that outlook. I think it's interesting what you're talking about that even in an English speaking culture like England and one that basically spawned our country here, the differences between the two countries are huge, and the two cultures are very different.
Ed: If you've been to England, you know it's a different place. So, yeah, I think that's interesting. 
Paul Galea: And like you say, you're a professional rugby coach. That's what you do for a living, and you have got to do it to the best of your ability. So I mean, I think anyone who questions or puts any sort of bad spin on any of that is just an idiot. Okay, so you had a great series victory on Saturday night, coming from behind one nil and winning the last two tests away from home, which is a superb performance. Before that, you were under a bit of pressure because you are rebuilding this England team, setting them for the World Cup that is coming in the near future and you've already explained that rebuilding is difficult. How do you handle the pressure, when you know that if you lose, maybe if you lost one of those games or if you lost both, then you probably would have been out of a job? How do you handle that pressure?
Ed: Look, it's like anything, Paul. I think when you make a choice to do something, to make a choice to be a teacher, you accept that sometimes you're going to get criticised by the parents. Sometimes the kids aren't going to be happy. You make that choice to do that job. And I made a choice to be a professional coach. And there's always pressure in the job because we only have 11 sort of report cards in a year and the report card has to have wins on it. You don't win, you're not going to be in the job. So I look at it in that way.
I've made the choice. I go in knowing that if we don't win, we're going to be under under the pump. So yeah, I quite enjoy it. Now, as a younger coach, it probably used to affect me personally, but now it doesn't affect me at all. I actually quite enjoy it. I enjoy that challenge of proving people wrong. It's probably always been a bit of my character that I like the contrariness of proving people wrong. So nothing has changed in regards to that, even at the age of 62.
Paul Galea: Well, I often tell people and people don't believe it, that without doubt, you're the hardest person, and when I mean hard I mean the toughest person, that I have had anything to do with.  Then they look at me, and they say, "But he's only a little bloke." I reply but inside, he's like a a ball of steel. There is no one tougher! Ok. If you were to stand up in front of our kids at school, particularly the older kids in Years 11 and 12, what would be some of the things you learnt along the way. You've had a very, very high profile, high pressure, but also up and down career. What are some of the things that you might say to them in terms of advising them?
Ed: Yeah, I think the one thing, mate, is always just know yourself and keep trying to find the best version of yourself.
The hardest thing in life is finding the best of yourself.
And so, know yourself. What are your strengths? What are your weaknesses? Keep trying to find a better version of yourself and never, ever be satisfied. Keep looking. There's always a little bit more in you, like no one knows how much.
How we can move life forward? You look at 20 years ago, there was no Internet. And now you've got Australia as one of the leaders in entrepreneurial business in startup companies. So for young people, they can not only be in the orthodox professions, like teaching or lawyers or doctors. There's all these whole new entrepreneurial opportunities for them. And if they can find the best version of themselves, they can live a great life and enjoy their life.
Paul Galea: Good advice! It's been really good of you to talk to us. And you and I are catching up on Friday to have some Chinese food and a few drinks to celebrate seeing you again and also to celebrate the fact that you're just kicking on big time.
Ed: Yeah, thanks, mate. If I can just tell everyone I think that in my time as acting principal, the best appointment I made was was you as the Biology teacher and After Care Coordinator because if you look at what happened to your career, that you became the deputy of the High School and had a fantastic career. And, again, for the young kids out there, I'd say always, always surround yourself with good people. You surround yourself with good people, invest in people, don't invest in knowledge, invest in  people, then then you'll profit from that. 
Paul Galea:  Very kind words. I'm blushing. Thanks. I'll see you Friday.
Ed: All right. Good on you, mate.