Congratulations to IGS Year 10 student Nyree Davison whose interests and passions have created a new club.
Nyree is a proud young Gadigal woman who wanted to share her knowledge and interests of Aboriginal Care of Country, native Australian plants and gardening with other students at IGS.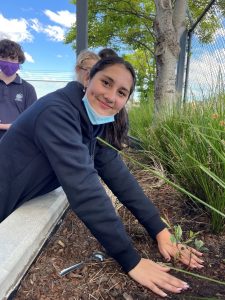 Djurali means "growth" in Gadigal language and Nyree hopes that the club will involve "growing plants and growing our understanding".
"The club will further the progress of recognising and celebrating Aboriginal and Torres Strait Islander histories, cultures and contributions at IGS as well as our sustainability ambitions," said Head of Sustainability Carmelo Fedele.
"High School students are encouraged to contact Head of Indigenous Education Jade Carr or me if they are interested in joining Nyree at lunch on Tuesdays."