It's always heartwarming to hear positive stories about our kind and thoughtful students. We're thrilled to share that a member of the public recently provided some lovely feedback to our Principal, Shauna Colnan, about two of our students.
Samantha wrote, "I am writing to express my gratitude to the two young students on the 470 this morning. They were sharing the front seat on a very crowded bus. After some whispered negotiations with each other they chose to relinquish their seat so an adult could sit."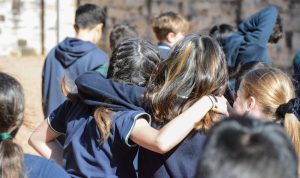 Such respect, kindness and empathy contribute to how we can all flourish, both at school and in our daily lives. It's inspiring to witness our students demonstrating these IGS qualities and making a meaningful difference in our wider community.
Well done to those students, we're proud of you. Let's all take inspiration from their example and continue to spread kindness wherever we go.