"Well, it has taken a lot of weird and funky videos on social media to get some movement but we have our first nominations for the inaugural IGS Alum of the Year," said Head of Advancement Paul Galea.
"There will be more but I am pretty pleased to see that the one thing these guys have in common is that they are really good people! It's going to be tough picking just one!
"The words below are those of the nominators, who remain anonymous."
Jessica Gutknecht (2013)
I'm nominating Jess Gutknecht for the prestigious Alum of the Year (AOTY) award. Nurses have obviously been doing it really tough for the past few years, no more words needed really. The AOTY might not equal better working conditions and pay for nurses but it could just be the next best thing.
You can listen to the interview done earlier in the year with Jess here.
Harrison Grima (2008)
I would love to nominate 2008 graduate Harrison Grima for IGS Alum of the Year.
He is an outstanding human being and has really touched on his creative side of late. He is an aspiring artist working mainly with charcoal, pencil or brushes and is working this year on trying to get together a piece (or a few) to enter the Archibald, Wynn or (can't remember the last one). 
Since leaving IGS, he really has encompassed the IGS values instilled in us of creativity, leadership and courage. While he works in the family business, helping to manage a childcare centre, he is often plotting away trying to promote and create his works and become recognised, and for that I take my hat off to him.
Nicholas Jordan (2006)
I saw your posts regarding "Alum of the Year" and I just wanted to nominate Nicholas Jordan.
I know Nick through UNSW where he is the "publications coordinator" at Arc. He heads up all of the student publications on campus.
Funny enough, we didn't know we both went to IGS for over a year after we first met, until he was reading through the Jigsaw magazine this year and saw an image of me ahaha.
I wanted to nominate him because when I first arrived on campus, I shifted through quite a few groups of people trying to find where I fit best. This was until I ran across Blitz (Student Media) where I felt most at home, in part because of this man. Whether I had a unique video idea or wanted to implement fresh changes to Blitz, he was always there, enthusiastic to help. He would come early, stay late after shoots, or offer advice, and always had time for a chat. Whether that be to me, or any other members of Blitz. Considering how well we got along, it wasn't a surprise then when I found out he was an Alum.
He is also currently working on a startup that helps people find community-rated restaurants focusing on diversity of cuisine called, Have You Eaten, which seems to be going well.
Sometimes it is the small things that make the biggest difference.
And….
I hope you're well. Writing to nominate Nick Jordan (class of 2006) for Alum of the Year.
Nick is the most community oriented and connected person in my life. He is engaged with diverse groups of people based on a wide range of shared loves. His work in food media has been featured in a range of publications, and his commitment to engaging with the communities who brought their culture and cuisines to Australia has opened the eyes of readers to a rich and rewarding element to the food we all enjoy.
Nick is committed to elevating the voices of others, including in his work with Diversity in Food Media; the Have You Eaten app and website; the Local Knowledge column for Broadsheet Sydney; and as publications coordinator at UNSW ARC where he supports student editors of university publications. He has taught ethics to primary school students, and taught us all about the art of friendship and community!
IGS has produced some stand up people, but Nick gets my vote for Alum of the Year.
Jack Colquhoun (2012)
I wanted to nominate Jack Colquhoun as Alum of the Year.
Jack has committed much of his life to music and entertainment, through his events brand Lovejoy. In a city where music and nightlife is lacking, Jack has sought to reinvigorate it, providing a safe and welcome space for music patrons to thrive, and give a platform to emerging local artists.
IGS prides itself on giving back to the community, a quality which Jack has exemplified. Nightlife and entertainment is at the heart of any thriving city, and Jack works tirelessly to ensure that Sydney is able to uphold these standards, and keep nightlife interesting, diverse and fun.
What's more, Jack further exemplifies the IGS values of authenticity, vibrancy and connectedness. He connects with all patrons, artists and other organisers, making them feel seen, heard and valued. Both he and his events are vibrant, and authentic in seizing what he wants to see from Sydney nightlife.
Emad Al Hatu ( 2013)
I offer you Emad Al Hatu (2013), who despite being two years ahead at school, has maintained contact on the basis of a chance encounter and the ever-present IGS spirit.
Sustaining a legacy, we have engaged in discussion about culture, politics and other deeper thematics of growing of age. He has been a role model, with a basis of friendship. He juggles multiple responsibilities such as supplying my Valentine's Day chocolates through his mother's business, which he has invested his time in to help flourish.
Whilst a commendation on being a good bloke alone would serve, we'll add this story, in order to get to know Emad a little better. Once, I was babysitting my dog, who needs to be accompanied at all times and, youthful in his spirit, he unexpectedly urinated; on Emad's sofa. Emad's response? He would only see me out the door with some additional chocolate from his mother's business, and a shine in his eye.
When it boils down to it, not all heroes wear capes and not all deeds are grand, but some are worth remembering!
Rohan Robinson (2019)
I nominate Rohan Robinson for Alum of the year, graduating year 2019.
Rohan has always and continues to be outgoing and involved in his community, continuing his volunteering as a lifesaver at Coogee and returning to IGS to help run clubs and classes during the COVID lockdown whilst also being a regular blood donor.
He is furthering himself and his contributions to others by currently studying nursing and simultaneously maintaining a part time job at the renowned Sydney Opera House where he is a key staff member and generally good presence.
He's also a skillful and helpful member of his soccer team at Balmain Tigers. I can't wait to see what else he ends up involved in.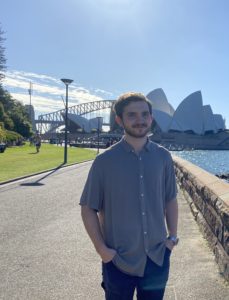 Zoe Cocker (2014)
Hey Mr Galea! 
I hope you're well! I've been loving your updates on the school on facebook! 
Now hugely important, Zoe Crocker HAS to win this Alumni of the year award and this is why. Zoe went to IGS from year 7 right up to Year 12 she graduated in 2014. She smashed her HSC major project in Design and Tech and that was it. She was off on design and there wasn't anything stopping her! Straight out of uni she won an Australian Graphic Design Association Award and then was head hunted to start at the prestigious graphic design studio Never Sit Still in Surry Hills. Zoe was unstoppable. She helped build the company up and now is a senior designer, bringing a female perspective to an often  male- dominated industry. She did this seamlessly, working with major clients like Spotify and Adobe ( check this one out : https://neversitstill.com/projects/adobe_ae) but the truth was that she was going through major health issues with Endometriosis . She suffered from Endometriosis, and it caused her to struggle from fatigue and ongoing pain and nausea. This in turn led to anxiety. How could she continue on this road if her body was trying to stop her at every twist and turn? She opened the dialogue up with her male dominated workplace and educated them on her issues, and the issues that many people suffer with Endometriosis everyday. She is not only a ridiculously impressive Motion Designer, she's a role model to all women.  She's gone on to speak at many design conferences around Australia to educate the industry on how women kick ass in the industry, she's taught master classes with Adobe Australia and taught at UTS. I mean the list goes on and on. 
Please send nominations to paulg@igssyd.nsw.edu.au with a short summary of why the alum has been nominated, their year of graduation and, if possible, a photo.