Our return to school this week – both on campus and remotely – has shown IGS values in abundance.
COVID-19 has challenged us all to do things differently as individuals and as a community. We've responded as we normally do, by rolling up our sleeves and getting on with it, with a sense of purpose, confidence, openness and optimism.
We've stepped up, and been richly rewarded.
These strange times have also given us a fresh appreciation of simpler times and of treasuring the everyday moment. I sense that while we all want life to go back to normal, there are aspects of slowing down and spending more time with family that we won't want to give up or forget too quickly.
Teaching and learning during the time of Coronavirus certainly has had its joys. We've been encouraging our students over this time to read more. In that context, I shared my love of reading one of my favourite picture books, Imagine a Place – remotely – and some of our younger readers have been writing and sharing their own imagined places with me.
Part of our creative challenge as teachers has been translating what we normally do into the changed context in which we find ourselves. For example, instead of welcoming Primary students back to school in person at an assembly, I chatted with them – via video. Little did I know that students would then make their own videos and send them back to me.
COVID-19 didn't stop us commemorating ANZAC Day. We had a solemn commemoration in the High School on Wednesday morning as we do each year and I want to thank my colleague Stuart Daly for his sensitivity and eloquence in crafting this very fine moment of solemn contemplation for our students and staff in our first week back.
Heads of Stage and Heads of Year have met hundreds of parents in our information sessions this week. Parent, student and teacher interviews will go ahead this term – via phone-  and I am confident that Years 11 and 12 will make the most of their opportunities as they return to the campus full time in Week 4.
Celebrating our teachers
This has been a time here at IGS and around the world when the craft of teaching has become more visible than ever before. There seems to be a new appreciation of the work of teachers and a celebration of their immense adaptability, skill, energy and commitment.
I couldn't be more delighted as I have seen at close quarters just how much work our teachers have done to make this mammoth transition possible, and in rapid time.
When we took on COLLABORATE! as our whole school goal for 2020, little did we know that within days, a global pandemic would be declared and we would be collaborating in ways unlike anything we have seen before.
From the Early Learning rainbows to the themed Tutor Group online meetings, we're embracing limitless learning in new and surprising ways and expressing our sense of community and hope, with collaborative initiatives like the Gratitude Project and the Unity through Diversity Virtual Flashmob.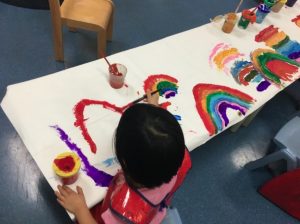 We continue, especially now, to want our students to see themselves as part of something bigger than themselves and to have a sense of hope in being able to express their voices and contribute with a sense of agency to making the world a better place.
The sense of excitement about our gradual return to campus this term is palpable. While we welcome our seniors full time from Week 4, Kindergarten to Year 10 will return to school three days a week. We'll assess how well this all works as we plan the rest of the term.
In the weeks ahead, we'll stay safe. We'll wash our hands. We'll maintain safe social distancing and we'll make it work.
And, if we need to change what we're doing due to new advice, we know we can do it.
Enjoy Term 2!
Shauna Colnan
Principal
Principal