"It's our birthday and 2022 celebrates our 38-year journey," Vilma said. "We tip our hat and honour the past and look forward to the promise of the future without losing sight of the present.
"Welcome back to all and a special welcome to the new families joining IGS. Some of the new students find it overwhelming being immersed into a new language. This is normal and with the ongoing support from teachers and parents the students will feel more comfortable and confident as time goes by.
"Welcome also to our new Primary Language teachers, Marianna Alla, Stephen Gu and Habiba Fallet who join our Primary Languages faculty this year. The language team is energized, committed and ready to continue to focus on providing a quality language program and building on our achievements."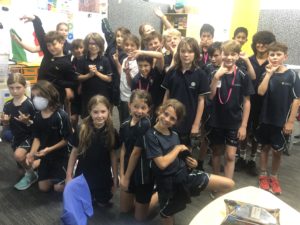 Year 5 Italian Beginner students share their thoughts on learning languages at IGS.
"At first I didn't think I would like it but now it's my favourite subject."
"I have learnt more in three days at IGS than I did for a year at my other school."
"Really fun – I didn't think that it could be fun but I'm learning."
"I already know another language, Hindi. Italian is much easier because it doesn't have a different alphabet."
"I love it because I go home and say a word and tease my parents because they don't know what it means."
"I am excited to be able to talk in another language to my parents without others knowing what i am saying."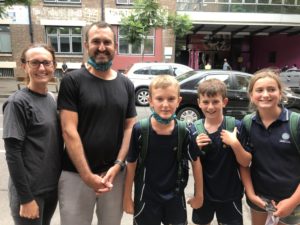 Vilma recalled a "serendipitous moment" on our 38th Birthday celebration, when Alumni siblings Joanna Maloney and Sebastian Matthews, who were two of the 44 students who began their language journey at IGS in 1984 were pictured with their three children, who are current IGS students.
"Joanna and Sebastian's parents, Richard and Tina Matthews played a significant role in the early days in 1984 when the School faced closure. It's because of families such as the Matthews, that IGS was able to survive such adversity and the reason we are all here today keeping Professor Reg St Leon's vision of a bilingual education for our children alive," Vilma said.
"Thank you Joanna and Sebastian for continuing to believe in the IGS vision."