"It's a celebration of good over evil, or, as I like to think of it, of enlightenment over ignorance," said IGS parent Ranjeeta Gangawani.
"I think it's really important to spread awareness, to ensure that children understand what it means to be inclusive, to encourage diversity and give our children a voice to show our culture is really cool and we have a lot to share," said fellow IGS parent, Samantha Panda Shah.
As the rain hammered down, the celebration prompted smiles and calls of "happy Diwali" and a number of students joined in, learning the dance.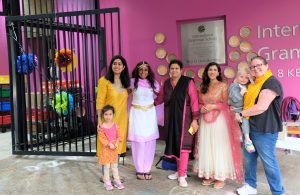 IGS PTF President Hayley Dean thanked the IGS families for decorating the front of the School and sharing tealights and book marks for children to colour in, and for leading the dancing and spreading joy on a grey, wet day.
"A massive thank you to all the IGS families who put this together," Hayley said.
"It was wonderful to be able to learn and celebrate in such a vibrant and colourful way."