In their Time To Sing concert, students presented a magnificent selection of repertoire in the IGS Hall, with a diverse range of performances from K-2 Choir, 3-6 Choir, Senior Vocal Ensemble and IGS Voices.
"These past few years, the IGS Choral Program has certainly been one of our extracurricular programs that has faced ongoing challenges during the pandemic, so the opportunity to sing together once again and fill the hall with song was incredibly uplifting for our singers and members of the audience," said IGS Director of Music Darren Kuilenburg.
"The concert opened with the energised sound of 100+ voices, which brought together singers across Kindergarten to Year 12, who joined forces to present an arrangement of Karl Jenkin's well-loved song Adiemus, a piece from his large scale work Songs of Sanctuary.
"This performance echoed the diverse fabric of the IGS Community, as students presented a piece of world music that celebrates African rhythms and Celtic-style melodies."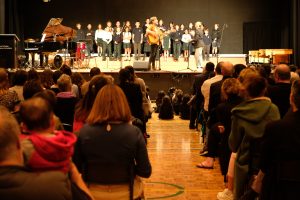 Other repertoire in the concert program covered a range of Folk Music, Film Music and Rock Music. Featured in the concert program was Junior Orchestra, Primary Guitar Ensemble and special guests Josh Pyke and Justine Clark.
"Indigenous Literacy Foundation ambassadors Josh Pyke and Justine Clark led our Years 3-6 to perform a commissioned work titled Words Make the World Go Around.
"As part of the presentation, Josh and Justine shared the important context of this work, designed as a collaborative project written specifically for the Indigenous Literacy Day celebrations at the Sydney Opera House last Wednesday 7 September.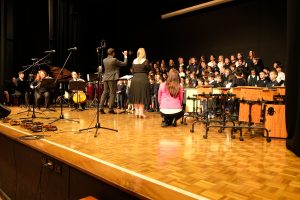 "They shared how wonderful it was to '…celebrate the languages of First Nations in one of Australia's premiere concert venues' and that this collaboration 'was an aspirational opportunity for students to engage in a meaningful cultural experience through song and indigenous language'.
"The ILF does such important work to preserve Indigenous languages, many of which have been tragically lost over the last centuries.
"The IGS community is encouraged to contribute to this very important cause by donating to our IGS fundraising page and this can be accessed by scanning the QR code below.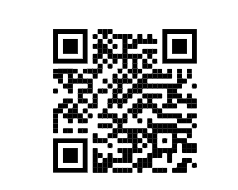 "The Choral Concert was a wonderful evening of celebration, in acknowledging the dedication of our singers and their perseverance in developing their skills across different rehearsal settings during the pandemic.
"The finale presented by the Senior Vocal Ensemble, a Rock Medley of QUEEN's favorites including We Will Rock You, Crazy Little Thing Called Love and We Are The Champions, certainly was a toe-tapping and audience participatory musical experience.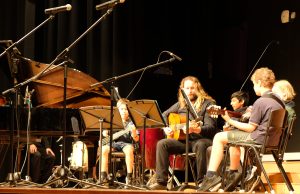 "Congratulations to our new Head of Music Performance, Mr Nathanael Primrose-Heaney for facilitating such a wonderful learning experience for our IGS Musicians. The excitement to all sing again was incredible and the energy in the hall was electrifying!"
Congratulations to all involved!