Several of the groups visited the Museum of Old and New Art MONA). Their Visual Arts camp was conducted at the beautiful and historic Rathmore House.
Nestled in the incredible scenery of the Derwent region, the "Art" students worked on collaborative and individual artmaking tasks. IGS Director of Art and Design Drew Bickford and Assistant Director of Art and Design Sandra Veljanovski ran immersive creative workshops on the verdant farmland, while our young artists drew inspiration from the valleys, hillsides and historic lodgings.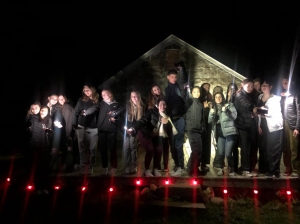 "Gorgeous weather and an abundance of natural Tasmanian scenery informed a creative practice that the students embraced wholeheartedly," Mr Bickford said.
"Responding to their immediate environment was the focus and the Rathmore host, Callie Lyons kept the students warm and well-fed with home-cooked, three-course dinners and cosy cabins.
"Writing the Island has been an outstanding opportunity for our young artists to bond through the experience of creative practice.
"Tasmania and its natural beauty has been an unforgettable inspiration for everyone involved in the Visual Arts camp."