Visual Arts students in Year 7 have been very busy creating amazing interpretations of the classic tradition of Still Life. Under the guidance of Ms Lampert and Ms Robinson, students have been working in a spectrum of beautiful natural colours.
"Each perfectly composed image of fruit has been captured in rich details and with stunning tonal realism," Ms Lampert and Ms Robinson said.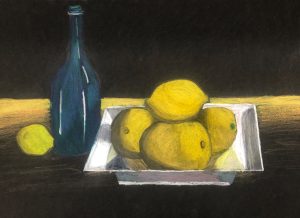 Still Life is a foundational unit that hones the observational skills of our young artists.
Requiring significant concentration and technical skill, each student's thoughtful compositions captures texture, shape and light sources with great care and beauty.