This week, our Year 11 students embarked on an unforgettable adventure at The Retreat, Kangaroo Valley, where they participated in an immersive English workshop. The purpose of this unique experience was to expand their understanding of the concepts explored in the Reading To Write module, while also fostering a deep appreciation for nature and its connection to creativity.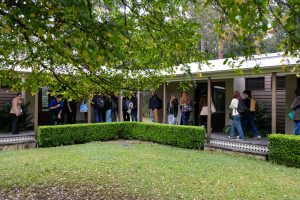 Throughout the tour of The Retreat, students were encouraged to observe their environment closely, noting the sights, sounds, smells, touch, and even taste that surrounded them. By incorporating these sensory experiences into their writing, they could create vivid imagery that resonated with the essence of The Retreat.
One of the highlights of the workshop was the exploration of an emotive extract from the novel Dust by Patrick Cullen. This text served as a catalyst for students to delve deeper into their surroundings and adapt the setting of the story to reflect the unique features of The Retreat. They experimented with various sentences, crafting prose that captured the essence of the property's natural beauty.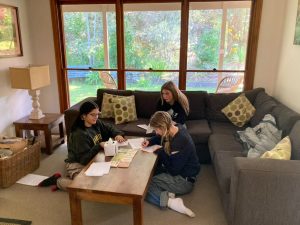 Planning inspiration for the day was also drawn from the article, How Nature Affects Creativity, which emphasises the profound impact of natural surroundings on our imagination, "In nature, you are allowed to think wild ideas and big thoughts, and dream yourself away into one's inspiration."
Beyond the workshop, the students had the opportunity to explore the charming Village nearby, where they were exemplary guests, living the values of our school community. They engaged warmly with the locals, who graciously welcomed our IGS students and staff.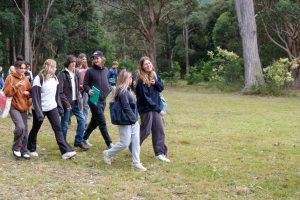 Nestled on 40 picturesque acres on the traditional lands of the Wodi Wodi people, The Retreat offers a haven for various educational programs, including language immersion camps, geography and science field studies, outdoor education, music camps, writers' retreats, and much more. It serves as a sanctuary where students can connect with nature, foster their creativity, and expand their knowledge.
We're excited to see every IGS student connect with nature and imagination at The Retreat this year!