Ruari received the award because he demonstrated outstanding dedication and excellence during the preseason.
Ruari has been playing with the Sydney Universities American Football club for just over five months now.
"I have very quickly become invested in the game. I think what I love about football is the intensity of the game, the nature of the sport, and the attitude that comes with it in terms of the effort you have to put into it feels very natural to me," Ruari said.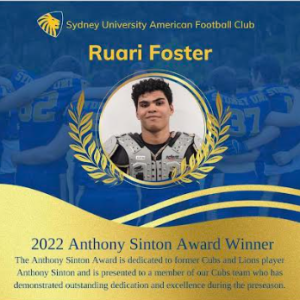 "In regards to winning the award, I am extremely grateful for it and I couldn't have done any of it without the support from my coaches and teammates who have driven me to set out and become a better player, but the most important thing remains that I still have lots of work to do and the award continues to motivate me to achieve my goals."
Well done, Ruari!