Lucy will be visiting IGS for an hour each Wednesday morning, and will be available to meet with students.
Johanna has had Lucy, a rescue dog and is originally from Orange, NSW, for the past two and a half years.
While Johanna is not sure what breed Lucy is, she thinks there may be a little bit of Labrador in there, both due to her looks, but also her interest in food!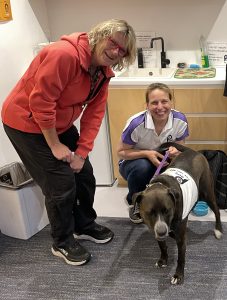 "Dogs and humans have a bond that goes back many thousands of years but it is only relatively recently that science has turned its eye to studying the positive effects of the human-canine connection," said IGS Director of Counselling Services and Registered Psychologist Joseph Degeling.
"There is a strong evidence base that supports the therapeutic effects of spending time with dogs on our physiological, emotional, social and psychological wellbeing. 
"Both Johanna and Lucy have gone through training and even a final exam to help prepare them for this important work. We are hoping Lucy will continue to visit each week into 2023."