Paul Galea: Hello Rebekah
Rebekah: Hi, Mr Galea slash Paul.
Paul Galea: How are you going and tell me what you've been doing lately.
Rebekah: I am good. I'm enjoying having a bit of a rest now. I think I'm pretty tired. I just finished The Bibbulmun Track that runs for 1003 kilometres through Noongar country in Western Australia from Albany, up to Kalamunda in the Perth Hills. That took me 56 days to get there.
Paul Galea: That's an incredible feat! You may or may not know that you were nominated by one of your year mates, who will remain anonymous, for IGS Alum of the Year. And a big part of that was that you're doing this incredible solo hike! I know a bit about this because I actually went on the walk from Denmark to Albany a few years ago with my missus. So I know it is not an easy walk. And you did the whole way. We only did 80 K's. You've done 1003! Solo! Tell us a little bit about that. And what was behind that?
Rebekah: I originally wanted to do it in 2020 but COVID stopped that. So as soon as the borders opened this year, I was straight across here. I actually drove here across the Nullarbor in my Toyota Yaris. It was gorgeous. 
Paul Galea: I've just gone the other way. West to east. So I know where you're coming from. Beautiful. 
Rebekah: Those road trains! So, I have developed this obsession with long distance hiking and there's a few amazing trails in Australia that I've been wanting to do and wanting to plan and to tackle. So, yeah, that was what I aim to do.
Paul Galea: Okay. The thing that really impresses me is that you did it on your own. Tell me what was behind that.
Rebekah: There's something quite amazing about hiking where you have everything you need on your back. And if you're doing it solo, you can just go exactly the pace that your mind wants. And exactly the pace that your body wants and it's your journey that you're doing yourself and you just have your own thoughts. There are lots of other people around, but at the end of day, you are walking by yourself, which is very satisfying when you get to the end.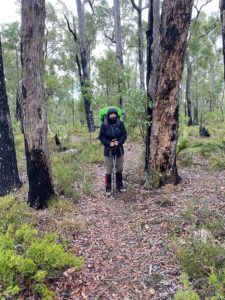 Paul Galea: It's an incredibly beautiful place to do that. That's the other thing. I mean, having just been in Western Australia, I was just blown away by the natural beauty there. I also appreciate just how isolated you were because you and I tried to get together to have a chat and a cup of coffee somewhere along the track, and you were just too remote. At the time when I was down there, I couldn't get to you! So that tells people how remote it was. I can't talk about this long term love of long distance hiking without bringing this up. You've got a little bit of that in your blood. Your brother, Callum and mother, Heather, are also into that sort of thing as well. Tell us a little bit about what they've done.
Rebekah: Yeah, my mom is an ultra-marathon runner, and she's very humble, so she might not necessarily say that, but she is. She's done some pretty amazing things. The catalyst was that she had ovarian cancer. I think that was when I was about 14. I remember, actually, the day I found out I went to school, and then I think I was late, so I had to explain why I was late. I think you're the first person who I talked to or you came into my science class just to make sure I was okay. Oh, that's a pretty special memory.
Yeah, that was the catalyst for my mum. It kind of changed her approach to life a bit. So she had this pretty intense time with cancer, but then recovered really well and then was, wanting to do a lot of adventuring around.
So we all started running and we started with a four kilometre run, and this was a bit later on in about 2012 I think and then it went up to the City to Surf and then it went to half marathon, and we're all enjoying that and then my mum just took it to another level. She's done things like Marathon des Sables* which is a very long sand run in the Sahara and then she's done the World Marathon Challenge, which is the one of the most ridiculous things I've ever heard. 
It's seven marathons, 42 kilometres, in seven days on seven continents. So she started in Antarctica and then ran a marathon in each continent. And it was really nice as the last one was in Sydney, so we could all be there to see her finish.
Paul Galea: Okay, that is absolutely incredible, in seven days. I still find it hard to wrap my mind around that. Her powers of recovery must be just phenomenal.
Rebekah: Mm. Especially because she didn't run much as a child at all. So, yes, you must just have it in your genes. Uh huh. And then my brother has been training over the past few years to kind of follow her path in mountaineering. So, yeah, that's been pretty amazing to watch him do that.
Paul Galea: I had a meeting with him a few years ago now, and he was preparing to do some pretty serious mountain climbing.
Rebekah: Yeah. Currently he's in Alice Springs guiding on the Larapinta Trail. Cool.
Paul Galea: And I can't mention your family without mentioning one of my favourite people in the whole world. Your dad, Doug, who is a legend at Coogee Surf Club. And it was great in the days when he and I were coaching our sons in the Clovelly Crocodiles. I don't think he's doing too much running now, is he?
Rebekah: No, but he's still very heavily involved in surf life-saving. Yeah, I think he's won of few awards recently.
Paul Galea: He's a good man, your dad. Now enough about the family, more about you! So you're in a pretty unusual job these days, I would say. You're an archaeologist. Tell us about that and tell us how you got there.
Rebekah: I enjoyed history at school but I  to really concentrate on Australian history, pre-invasion and yeah, explored that at uni, not really thinking that I would be able to get a job because archaeology sounds like something that you had to go to Egypt to do. But there was actually heaps of work here, especially with all the development happening and with the legislation protecting the archaeology. So I went through and did a Bachelor of Arts majoring in Archaeology and a Bachelor of Science majoring in Geology and then did Honours in Archaeology, while working at the same time. So, that was pretty great. And I then got a job straight out of uni, and yeah, just …
Paul Galea: And you're still in the same job.
Rebekah: I changed companies. So now, previously, I was doing more historical archaeology, but I wanted to do more aboriginal archaeology, so I changed companies.
Paul Galea: Okay, so that must be very interesting.
Rebekah: Yeah. I feel like it's quite a privilege to be able to work in this space. I've learnt an endless amount. And to be able to go out into places where you wouldn't normally end up, such as in paddocks, construction sites or National Parks and talking to people about their culture and working out ways to reduce the risk towards destruction of sites.
Paul Galea: Yes. So that's your main thing? Where you're trying to make sure that sites are preserved and not just bulldozed by machines?
Rebekah: Yeah, yeah. So it's very complex with all the legislation and stakeholders, but yeah, at the end of the day, we're trying to assess what's the potential of the archaeology and to understand where the tangible and the intangible cultural heritages lie and then to work out ways to protect them. 
Normally, I also focus on analysing the Aboriginal stone artefacts, which is a pretty amazing job that I never thought I would get, getting to look at these things that were manufactured thousands of years ago.
Paul Galea: Yes. And like you said, you mentioned that you liked history, and then when you left school, you sort of had this in mind? Or did you? Did you start somewhere else and move to here or were you just pretty single-minded?
Rebekah: There was somebody who was a few years above me, and they actually were studying archaeology at Sydney uni, and I think I just talking to them and I was like, hmmm, you can actually study that, and then so that kind of inspired me.
Paul Galea: Do you remember who that was you were speaking to?
Rebekah: Mmm. That was Lauren Millar. 
Paul Galea: I remember Lauren. She went on a trip to Vietnam with us. With me and Mr Miller. Good girl. She's still involved in that?
Rebekah: I have no idea. I think she did Classical archaeology. Yes. I'm not too sure. 
Paul Galea: Alright, well, wow, that's great. You sound like you're very happy in that field. It sounds very complicated, though. I'm assuming that you've got to be extremely careful in how do you deal with these things? So that sounds like it would be very challenging but challenging is usually good. Usually, and I know this is probably going to sound a bit silly, but I always like to ask you guys if you've got any advice for the kids who are still at school because I send these interviews to the kids at school. Have you got any advice about doing the HSC or going out in the world or even doing long-distance solo hiking? Any advice never goes astray.
Rebekah: I think one thing that really was crystallised during my hike is how important it is to walk your own walk and walk at your pace, and that as a analogy goes for life as well. It is quite important to follow your own path. That's where you'll end up having the most fun, feeling the most satisfied and probably challenging yourself the most.
Paul Galea: That's a very much a recurring theme from the people I talked to, Rebekah. They always say that one of the things they've learned as they've got a bit older is not to worry about what everyone else is doing. Make your own way. Really interesting. Okay, what about school? I'm pretty sure you liked school. Any nice memories? Any good, really special memories from school?
Rebekah: Yeah. God, it's hard to summarise 13 years, isn't it?
Paul Galea: It's a bit of a stupid question. I'm famous for stupid questions.
Rebekah: I'll need to write a 10-page essay on this. Let's see. I think apart from everybody, like all the teachers, amazing. There's a sense of community as well, especially having been there for so long and I think I gained a lot from co-curricular activities. So, like doing Duke of Ed. I think that's where I first started hiking. Then doing  the Antipodeans and all the exchanges.  
I mean, I'd also like to acknowledge how privileged I was. My parents paid for all these trips and I'm very grateful for that. I think they really, added a whole new level to school. Being able to go to France and New Caledonia and Spain and India and Vietnam in a learning environment was pretty cool. I remember, particularly, on Antips, the the hike that we did along the Singalila Ridge. I think I was with Lucy Sensei on that one and that was a pretty amazing sight, seeing Everest, also known as Chomolungma, for the first time. Yeah, that was very cool.
Paul Galea: Yes, again, this is a recurring theme. What I hear from most of the ex students is the classes were good and the teachers were fantastic. But the thing that sticks out were those bits and pieces that you did outside of class, outside of school, where you got to engage with the world. And most of the kids, I call you kids, seem to think that that's what you've got a lot of pleasure and value out of doing, which I think is really interesting. And I think that is something that the school does pretty well.
Rebekah: Mm. Because were you the co-curricular director or something?
Paul Galea: I was the king of co-curricular for many years.
Rebekah: Well, thank you very much, Mr Galea.
 Paul Galea: Haha. It's been lovely talking to you, Rebekah 
Rebekah: You too. 
Paul Galea: You're just an amazing young woman to have done that track because I know that it's not an easy trek. I did 80 kilometres over probably seven or eight days and at the end of it, I was a wreck, and I did about a 12th of what you did and I take my hat off to you.
And I'm really interested to hear that you're doing so well in the archaeology. Again, we've got lots of kids at school who probably didn't even know that archaeology could be a pathway for them and that there are lots of jobs and that these sort of things can open up their opportunities in an area that they may not have known about . So that I thank you for that as well. When you get back to Sydney, we'll definitely have to have a beer.
Rebekah: Yes. Let's do it. Celebrate my return!
* This six-day, 251 km (156 mi)[2] ultramarathon is held every year in southern Morocco, in the Sahara Desert. It has been regarded as the toughest foot race on Earth.
Listen to the interview below:
https://www.youtube.com/watch?v=HcQcLJaCoVc