The inaugural Indigenous Games held at Wentworth Park on Wednesday is one of the many vital elements included in the Schools Walking Together program. The program is an intercultural exchange between two schools – IGS and GCS – supported by the charity organisation Connecting Communities Australia (CCA).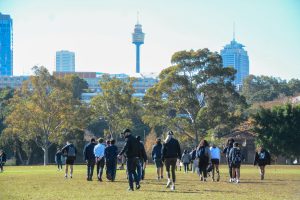 Schools Walking Together is based on the vision of encouraging friendships between communities while privileging Aboriginal perspectives and voices through on Country learning, with the goal of enhancing the education and learning of staff and students alike. The program is called Schools Walking Together because it is about schools and communities walking together in the spirit of reconciliation. 
The Games saw proud Murrawarri man and IGS parent Tim Bishop performing a smoking ceremony and singing in Sydney language with yidaki players and dancers. Of great significance, this important performance marked the beginning of something very special and welcomed guests to Gadigal land.
Amidst the electric atmosphere at Wentworth Park Stadium, students showcased their athletic skills and shared unforgettable moments of teamwork. We saw great displays of sportsmanship, and the event exemplified the true spirit of competition and friendship!
As part of the Schools Walking Together program, other Sydney schools were invited to attend the Games. Participating Schools included;
Redfern Jarjum College
Gawura school
Barrenjoey High School
Alexandria Park Community School
Goodooga Central School
St Ignatius Riverview
Presbyterian Ladies College, Pymble
International Grammar School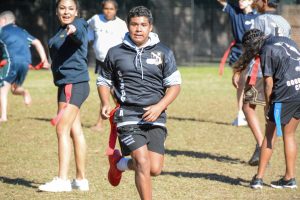 The Games were organised by the charity Connecting Communities Australia, in partnership with Goodooga Central School and International Grammar School, as part of the Schools Walking Together Program. Connecting Communities Australia is dedicated to fostering stronger and more resilient communities.
Schools Walking Together brings together children from regional areas, like Goodooga Central School, and First Nations students in Sydney schools. This powerful exchange program creates new opportunities, builds lasting relationships, and nurtures a deeper understanding of what is possible.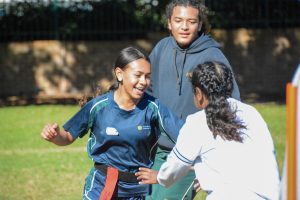 What an incredible day. Special thanks to Megan Sampson, our Acting Coordinator of Indigenous Partnerships, who took on the coordination of Tuesday's Goodooga Central School student visit to IGS and the Games on Wednesday. Thank you, Megan!
We eagerly anticipate preparations for the next Schools Walking Together Indigenous Games! You can read more on this week's cultural exchange here.