Ms Arsalah said she would never forget her first day, arriving alone in Sydney at the age of 18 by aeroplane, early one raining morning 22 years ago.
"I was thinking it was heaven," she said. "Everything was so clean and beautiful. I came from such a dusty, dusty city. It was dirty and dark with no electricity. I was not allowed to go outside most of the time; we lived in one room.
"When I went outside it was so green and it was so clean. It was like I read in a book. The water so clean it was like a tear."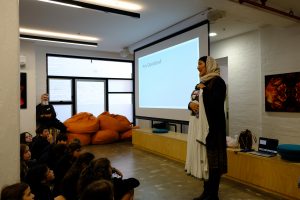 Ms Arsalah said she learnt English and then undertook Child Studies at college.
"I felt so special. I was allowed to walk by myself to my class. I wasn't allowed to walk by myself before. I had to go with my brother or my father."
For almost a decade Ms Arsalah said she thought she would return to Afghanistan, but she and her children have made so many friends here she has made her life here and expects to stay.
She hopes the war ends in Afghanistan, for the safety of her old friends and family left behind. When it does, she plans to return more often and stay longer.
"Afghanistan is such a beautiful country, with many heritage areas, but not everyone can go there."
Year 5 students asked many questions, and Elijah thanked Ms Arsalah "for helping us understand what it is to be a refugee".