Their teacher, Machiko Sensei said her students explored a variety of different toys children enjoy in Japan.
"They learned the names of traditional Japanese toys which includes kendama, karuta, darumaotoshi, otedama, fukuwarai, hanetsuki, koma and so on," Machiko Sensei said.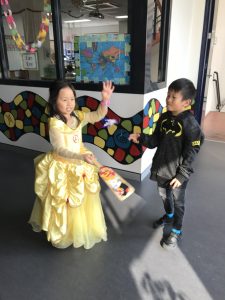 "They also practised saying some expressions which can be used to play with the toys.
"Once they learnt the words and expressions, they were ready to play with the toys."
"Jankenpon!" one student, Miles said, which translates to scissors-paper-rock.
"Watashi no ban!" Harper said.
"The students enjoyed playing with traditional Japanese toys, using some Japanese expressions to negotiate and take turns in a purposeful way," Machiko said.
At the end of the class, her students called out it was "the best Japanese class ever"!