Director of Music Alison Housley made the announcement at the School's music assembly on Wednesday 19 June.
"That night we raised an enormous amount of money, thank you so much everyone who came and dressed up," she said.
IGS was also joined by the head of Assistance Dogs Australia Richard Lord.
Alison presented him with a framed concert poster to celebrate the IGS contribution.
Richard was joined by retired Labrador Taylor, 12, who amused the students with his barking and tricks.
"What a night it was! I was expecting to come along and just see some bark but it was so much more variety, lots of fun tricks and dress ups and over 20 other dogs who came along as well," Richard said.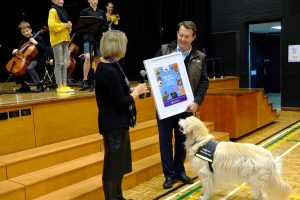 "It was a fantastic night and I'd like to thank the students and the whole community who donated so generously to Assistance Dogs Australia."
Primary and High School music students also took the opportunity to get some practice in before their big performance on Thursday 20 June.
Many of those performing were from Kindergarten and Year 1, some even performing for the very first time.
The performances had everyone in the audience singing, stomping and clapping.