Despite being off-campus, students at IGS kept the joy of reading alive during our virtual Book Week.
Students had a chance to dress-up as their favourite book character in a virtual book parade on Wednesday 25 August, as well as an opportunity to participate in various activities ranging from performances and author talks, to writing tasks and design challenges.
We thank Year 2 Teacher Josie Nardella for sharing some examples of Beautiful Book Week Work from her students.
"Students were encouraged to talk about their character and their favourite books," Josie said.
"They had a variety of book related activities they could choose to do all week. They even had a surprise Zoom call with professor McGonagall, (aka Miss Nardella).
Maxwell devised a 'Dog Man' afternoon for his class, reading Dog Man books, followed by a match of the 'Dog Man' board game.
Sophia dressed as Pearl the Proper Unicorn, while Edward dressed as The Lion King.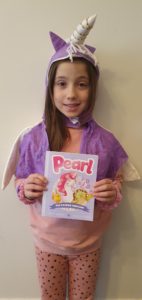 We also thank Year 2 Home Class Teacher Nancy Gagliano for sharing some examples of Beautiful Book Week Work from her students.
Students dressed as their favourite book characters and presented their book to their class.
Maya chose to dress up as Harry Potter, and said she likes the Book, Harry Potter and the Prisoner of Azkaban, because it's full of adventure.
"I like the time turner, and I like the Hippogriff, Buckbeak. I think it's a great book and I think anyone aged between 7 and 9 should read it," Maya said.
Albert dressed a stormtrooper from Star Wars.
"I like the book because it's about my favourite movie, Star Wars. I bought the costume from my favourite shop and I like the Stormtrooper's white armour," Albert said.
Harper chose the book Armstrong- The Adventurous Journey of a Mouse to the Moon.
"I am wearing a suit like Moon Mouse. He is so small and brave. My favourite astronaut is Peggy Whitson because she has spent 655 days in space," Harper said.
Margot dressed as Hagrid from Harry Potter.