We unveiled images this week in our final assemblies to let the students know about our progress. They were very excited about these spaces.
The Global Learning Centre
Construction will begin on the Global Learning Centre over the semester break. Over half of all languages teaching will take place in the Centre, which we anticipate will unlock the rest of the campus in so many ways. In Term 3, Language teachers will remain on Level 2, while Levels 1 and 3 are built. Once their new office and collaboration space are ready on the top floor, the teachers will move in.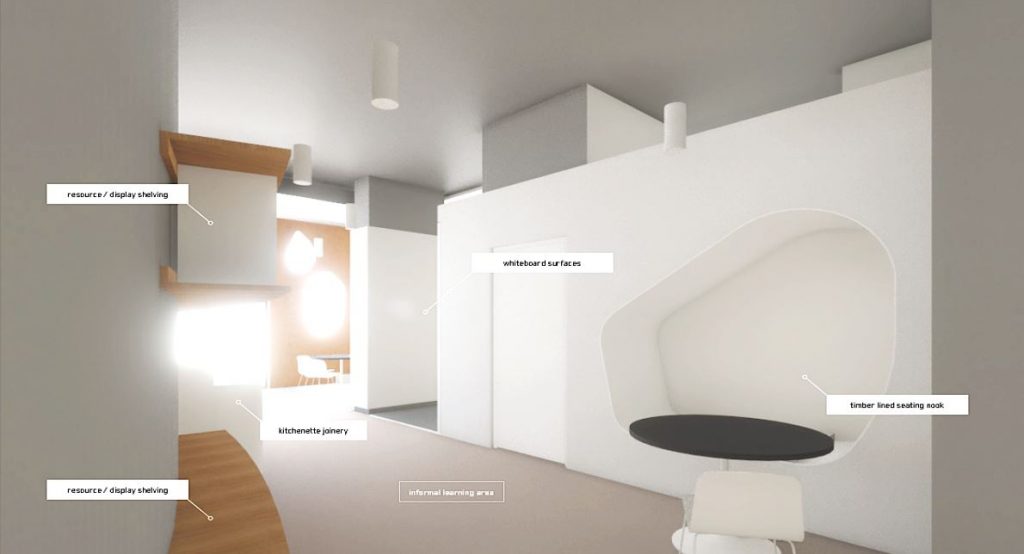 Teaching and learning Levels 1 and 2
Each level will have three classrooms. They will be called Rome, Berlin, Tokyo, Beijing, Madrid and Paris. The classrooms will have operable walls so they can be opened right up into one space or two for flexible use. On each level will be two seminar rooms for smaller senior classes and for a range of other uses. There will be a kitchen for teachers and students to celebrate and explore culture and language through gastronomy.
Team teaching will be more possible in this Centre than it has been before at IGS. In the middle of each floor will be an informal learning area and breakout space, which again will serve a number of purposes as we welcome students from Preschool to Year 12 into this beautiful new destination space for the teaching and learning of languages. We anticipate teachers from across Sydney and around the world will visit the Centre as well as members of the IGS community and beyond.
BVN has designed the space to honour the architecture of the Kerrie Murphy Building with the burnt terracotta colour of the walls and its quirky, distinctive windows, reminiscent of a child poking a finger through clay. Acoustic features will include soft grey absorbent carpet not just on the floor but on some of the walls and effective paneling above, creating a clean, warm, productive and welcoming feeling.
The Imaginarium
Head on downstairs to the ground floor of the Wright Building and the space which is currently a series of small dark rooms will be opened up so that a whole year group can meet there in what we're calling The Imaginarium. The IGS Counsellors will move from that area into a professional suite across the corridor from student reception and sick bay in the main campus, making them more accessible to our students.
It will be very exciting to see this project come to life in Semester 2.
The IGS Bibliothèque – a game changer for our school
Meanwhile, I'm thrilled to let you know that the concept design for the Bibliothèque is almost ready for our consideration. Our colleagues in the Library have worked hard to provide a comprehensive brief to the architects. They've also visited a range of school and public libraries as they seek inspiration for what might be possible here at IGS. We've had brilliant ideas and input from staff, students and parents and have developed a beautiful vision for an expanded Preschool to Year 12 Library, back in the heart of the Reg St Leon Building where we believe it belongs.
We want an enchanting place that inspires our students from early childhood all the way through to their final year as young adults. We also want a safe, warm and comfortable place, a rigorous research centre and somewhere that we can take our students to enhance teaching and learning at IGS and to build their love of reading. It will connect to the Colleagues Lounge, a new facility for staff, through an operable wall so that we can stage our conferences and other special events here at IGS. Future-proofing our school is all about designing for maximum flexibility and use.
Some of the features we're considering include an amphitheatre instead of a staircase where students can sit and read, a reading pond or yarning circle, a reading cave under the amphitheatre, a reading room in the conservatory which will extend outward from the current unused balcony, meeting rooms, teaching spaces for several classes, collaboration spaces, a research centre, study booths, a slow space or unplug zone. The space will be bigger than the library spaces we have had but it's still not huge. I am convinced however that an inspired BVN design will deliver something very special for our students and our school.
This one is a game-changer for our school. We are moving towards construction in 2019.
Exciting times ahead!
In the meantime, I wish you and your children a refreshing and enjoyable three weeks of holiday time. For Year 12 parents, this is an ideal opportunity for your sons and daughters to consolidate their learning as they head towards the Trial HSC, while also getting out in the fresh air and enjoying some downtime with friends and family.
Students return to school on Tuesday 24 July.
Shauna Colnan
Principal