Thinking of all students in their Off-Campus Learning journey, IGS Music Leader Mischa Belunek shares some of her own strategies during lockdown and how music has been an important outlet for relaxation as well as an inspiration for motivation.
The importance of connection at this time was the main message that Mischa shared, expressing that for her family, "music listening has been a meaningful shared experience".
The diversity of listening for Mischa and her family has explored cherished repertoire shared with loved-ones across the world via Spotify playlists as well as gathering around the record player and "putting on vinyls of favourite artists".
IGS Director of Music Darren Kuilenburg shared a quote that "'music echoes the universal power of music that connects us all' just as Music Education in school is intrinsically linked to the development of the whole child as part of a collective community of learners". 
Research states that "Music, whether playing it, listening to it, or creating it, involves almost all of our cognitive abilities." Zatorre (2005)
"Similarly, neuroscience indicates the positive impact that music plays in brain functioning and as an empowering tool to responding to a range of emotions when faced with new situations," Darren said.
So, what can you do at home to support yourself and each other during this journey, and explore the energising power of music within your family?
"Maybe listening to music together could be a wonderful moment to reconnect and unwind?"
In consideration of the powerful influence of Music for a range of reasons, Mischa has suggested her top five listening experiences that have helped her to recharge, renew, revitalise, regroup and relax during lockdown.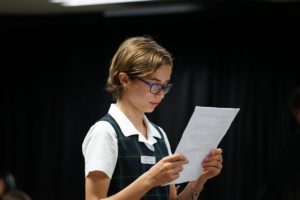 For recharging: Self-titled album Indigo Girls
For renewal: "Dawn" from Pride and Prejudice Soundtrack (2005)
For revitalising: "Shake It Off" by Taylor Swift
For regrouping: Belunek family favourite viewing: "Eurovision 2016"
For relaxing: "Folklore" Album (2020) by Taylor Swift
The Music Department is thinking of the IGS Community at this time and it is our hope that the power of music brings you immense happiness, enrichment and connection over the coming week.