Covering more than 2,500km, the tour provided unique learning opportunities for students, such as staging a concert at the RFDS headquarters in Dubbo and performing in front of audiences at Bourke Public School and Lightning Ridge Central School.
"Not one person from IGS, student or staff, had ever been to Lightning Ridge before," said Director of Music Alison Housley.
"The students from Lightning Ridge ran up to our IGS students at the end saying 'please come back soon!', so they loved having us there to perform. That was a really lovely feeling, knowing we could provide them with a special visit."
Deputy Principal Staff and Innovation David Hamper explained the main objective of the tour was to expose students to remote locations and raise support for a service which aids these locations.
"For us, it's a chance to give our own students insight into these places," Mr Hamper said.
"We looked for an organisation that was benefiting local communities and that would have a strong presence in the communities we were visiting. RFDS is a quintessential part of rural and regional Australia."
At the RFDS headquarters, our students performed for volunteers of the RFDS and experienced a simulated emergency flight in a mobile education unit with aeronautical features, giving them a sense of RFDS procedures.
"It was incredibly interesting to learn about the RFDS procedures in such rural environments," Ms Housley said. "Sometimes they don't even have appropriate landing grounds to access properties.
"We learned how farmers assist the RFDS, and what they go through – that sense of community spirit."
Communities welcomed IGS. View the DubboPhotoNews coverage.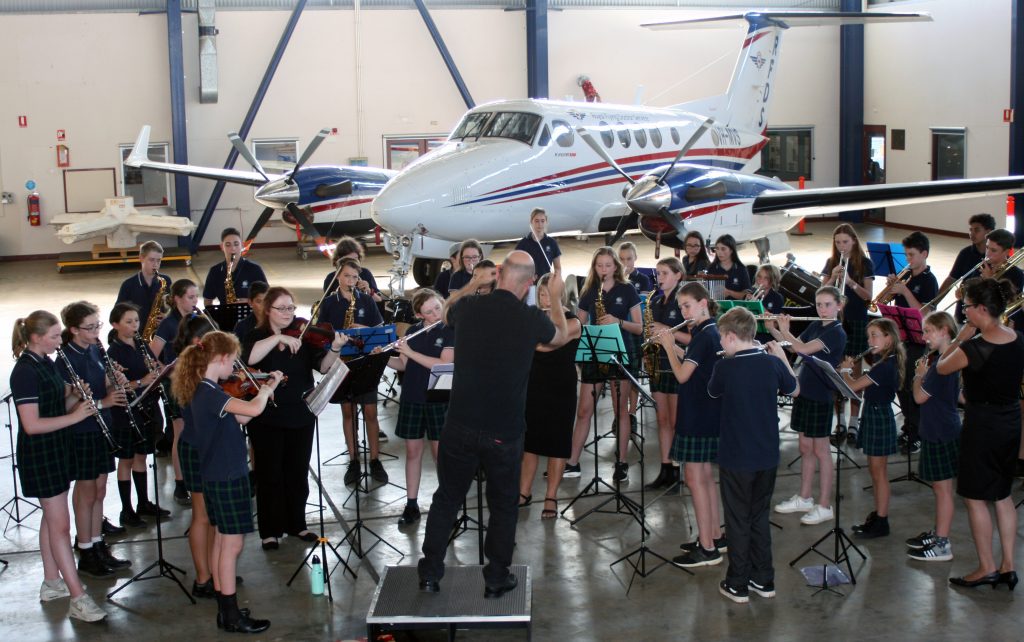 More than 40 students committed to the tour, and eagerly rehearsed since mid-2017.
"At IGS, students from all year groups connect with each other, and that's exactly what the students did on the tour," Ms Housley said.
"Our students sounded fantastic. They really melded as a team, and performed with collegiality together. We had such a well-balanced ensemble, which evidently produced really good quality music, and we had an entertaining program to enjoy."
IGS strings specialist Fiona Goodhew, who had grown up in remote locations and feels lucky to have been part of a music program designed for people in remote areas, was thrilled to share her violin with a student in Lightning Ridge who had never seen one before and asked to touch it. She invited him to play it.
"I won't forget the glee in his eyes and his reverence for the violin he was now going to play, with some help," Ms Goodhew said.
"Thinking of how both our schools had been brought together through music made me smile. I felt like I'd helped share and pass on the music legacy that was given to me all those years ago."
"I've always believed in the power of music to unite and bring people together – and this tour exemplified that. I felt honoured and privileged to think that this experience and interaction might be a poignant moment and have a positive impact on someone's life, as indeed music did for me when I was that age." 
IGS students were grateful to have been able to take part in the tour, see new parts of NSW, and share their enjoyment of music with others.
Felix of Year 8: "I loved how we got to experience many towns that are so different to the city we live in. Playing music for schools that don't have a band was great, because they all looked excited to see the different instruments that we all play, and hear the sound of our band."
Saskia of Year 8: "I loved visiting and exploring new towns all around NSW. Getting to perform in an ensemble was a ton of fun too."
Beyond performing for regional communities, the IGS tour group sailed on The Darling River, visited animals at Taronga Western Plains Zoo, and visited the Golden Guitar in Tamworth.
Together with the IGS community, the tour group raised just under $2,000 for the Service.