Disability is a major topic in French Extension.
Alexandra answered students' questions on how to engage with this issue appropriately and touched on the topics of acceptance, resilience and identity.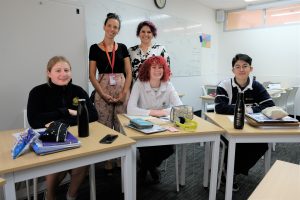 Alexandra has more than a decade of experience working in public policy and reform environments in Australia, having worked in the frontline, operational policy, and strategic policy roles with the NSW State government and private sector.
She spent five years working in frontline disability services at the beginning of her career and is currently supporting one of Australia's largest disability service providers to prepare its response to the Royal Commission into the Violence, Abuse, Neglect and Exploitation of People With Disability. 
French Extension student Ashley said: "Our French Extension class had the great opportunity to speak with a specialist from the disability sector. She spoke of the changes that are happening to create a fairer and more equal society in Australia," she said.
"While there have been many steps in the right direction, such as the NDIS, societal perceptions remain a great challenge in our society. This talk gave me a deeper understanding of what others around me deal with every day."
French Teacher Juliette Bates said this insight will better equip students to write with the empathy task and the monologue.
IGS thanks Alexandra for sharing her expertise with us.