Sophie, who has been teaching at IGS for a decade, exhibited six stunning paintings and several accompanying sculptures at the exhibition's recent opening.
One of the paintings, The Garden of the Moon, was purchased by NAS for their permanent collection. This is a significant honour, received by only several student artists each graduation.
"Sophie's incredible commitment to her practice and desire for lifelong learning is a wonderful example of beautiful work within our teaching community," said IGS Director of Art and Design Drew Bickford.
"She models the highest standard of creative practice for our students and we congratulate her on this achievement. Well done Sophie!"
Sophie said she felt "a great sense of accomplishment" at achieving her Masters, a long-held dream.
"Art matters because it's the way we interpret the world, it's a language and it enables us to recognise ourselves in the world," she said.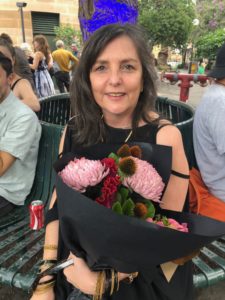 "I really like being with the students in the classroom, especially when it's 'humming' – everyone concentrating, being industrious and focused on making or learning a new concept, this is what makes it great."
Sophie has shared words from podcast A Brush With, The Art Newspaper, Ben Luke talking to Jenny Saville.
"I listened to an interview with the painter Jenny Saville where she speaks about her artmaking practice: 'The bringing into being, it's a magical process. When you make marks and you start from nothing and you make a certain series of marks, in a certain way you make something that's never existed in the world before. Those marks have never been made in that sequencing before and every single human that has ever lived in history has never done that, it's a very magical feeling.'
"When I'm teaching I reflect on that and think, isn't it a wonderful thing that all children get to experience that!"