In a week of farewell events for the leaving class of 2019, we had the joy of reflecting on this year group and their time with us.
At their Graduation Dinner I thanked their parents for entrusting their children to us over the years of their schooling and reminded them that they have given their sons and daughters the greatest gift of all: the gift of a quality education.
We danced the night away in the knowledge that being educated at IGS has provided our Year 12s with a great start to the next stage of their lives.
At white water rafting, at the zoo with their Kindergarten buddies, at one farewell after another, we let our students know how proud of them we are.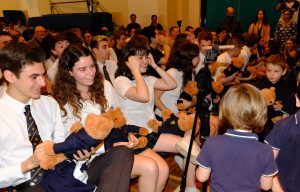 My advice to them?
"Follow your heart. Do what you love. Take action. Be kind. Have courage. Be less afraid. Go for it! And know that we will be cheering you on from the sidelines.
In the words of that great American writer Mark Twain:
"Twenty years from now you will be more disappointed by the things you didn't do than by the ones you did. So sail away from the safe harbour. Catch the trade winds in your sails. Explore. Dream. Discover."
And enjoy every minute!"
At our final formal assembly today, we shared some funny, quirky, heartwarming moments that captured this Year group's journey through IGS.
They were creative from day 1. All those bake sales for causes that they cared about… More brownies and cupcakes than we could possibly count!
During The Rocks Quest, they were the first year group to be holed up in the Merchant's House at the bottom of George Street. We wanted them to love The Rocks, learn so much, feel a sense of freedom and have the best time. And they did.
In Year 9, during Opera on Kelly Street, they wrote and performed crazy, funny, inspired, original operas. So much talent!
They journeyed through the pristine unspoilt landscapes of Tasmania.
They saw the funny side of life. They explored their passions from the very beginning. We've loved their enthusiasm and especially their sense of fun, and we're going to miss them.
We're often in such a hurry, racing with great anticipation towards the destination, and then comes a day like today and we just want it all to slow down a bit so that we can savour where we've been for all those years for just that little bit longer.
But time won't stand still.
As Shakespeare wrote in Henry VI, "see the minutes, how they run."
The march of time, steady and unstoppable".
I told Year 12 "today when you can hardly believe that it's now your turn to leave school, you can be forgiven for being blindsided by a wave of emotion, washing you around and around and upside down, knocking you sideways with feelings that you just didn't see coming.
As you contemplate the last day of school and what it all means, please spare a thought for your parents, your grandparents, your siblings, and your families, so many of whom can hardly believe that this part of the journey is almost over."
And so for all of us, and especially for Year 12, today was not just graduation. It was commencement. It was freedom. Hard as it is, the more we let go now, the stronger they become as we usher them into adulthood.
And we couldn't be more proud of them than we are right now.
My final words for Year 12:
"On behalf of the entire IGS community, I thank you for all you've done to enrich our School. Well done on all you have achieved.
For those who have pushed courageously through some very difficult times, know that we have watched you and admired you, your stoicism and your immense courage, your good humour and your gentle spirit. You have inspired us all.
Year 12, go well into this next chapter, and the very best of luck for the HSC and beyond. And remember, while we want you to do your best and to do brilliantly in the upcoming exams, and we know that you will write more and better than you ever have, know also that you are not your ATAR.
Going forward, what will matter more than marks, and ranks and scores, is kindness, tenacity, an open heart, curiosity about others and the world, and above all else, love.
It's time to head off into life beyond IGS, beyond Kelly Street. And you go with our very best wishes.
Shauna Colnan
IGS Principal