Students are working hard on their practical work and their portfolios in Textiles and Design.
"I'm seeing some serious skill from these students. They are starting to see the end of their projects."
Orlando Read shared the photo of the vest he has made for his Major Work.
Orlando's vest is inspired by Australian native flowers and 1970s men's formalwear.
"Orlando designed the pattern in Illustrator and we sent it to a company to print it," Ksenija said.
Mischa Belunek was inspired by mid 19th Century fashion in North America and Japanese culture. She chose hand embroidery for her major work.
"Particularly she liked the flora of Japans Cherry Blossoms," Ksenija said.
Ashley Ruben, inspired by Designer Marchesa and the art of Artist Money, created gold hand beading.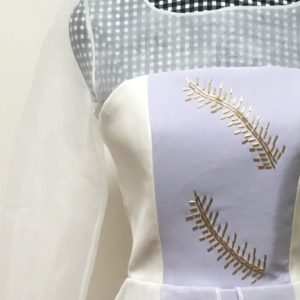 We wish all our Class of 2021 Year 12 students and accelerated Year 11 students all the best as they continue to prepare for their HSC.