Meetings took place during week 4 of Term 1, with IGS Principal Shauna Colnan, students of all ages, BVN Architects, staff and Canteen and Out of School Hours Care representatives.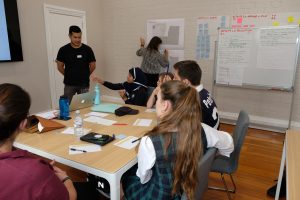 In consultation about the future of the School's entry, courtyard, Canteen access, reception and more, participants shared what they love about the current look and feel, and how they feel the areas could be improved.
The improvements are part of the IGS Strategic Plan 2016-2020 Into the World including plans to reimagine and redesign the campus.
Recent improvements have included Science Lab upgrades, the Design Centre, the Global Centre for the Teaching and Learning of Languages, the Imaginarium and the Literarium.
Works currently in progress include the Centre for the Dramatic Arts and IGS Bibliothèque.