When students (many of whom are taking part in the IGS Off-Campus Learning Program) were invited to send in photos and descriptions of their pets, so many responded that we plan to share three pet features each week. 
Raffy and Rylee the energetic toy poodles submitted by Sammy in 3 Blue and Audrey in 1 Blue:
Raffy, who is 16 months old and Rylee, just 6 months old, share the same parents.
"Rylee loves chasing her brother Raffy around, eating any food she can get and she loves lots of cuddles," Sammy and Audrey said.
"She will let you hold her all day! She loves running in the park and playing with other dogs.
"Raffy loves to go for walks, he loves to dance and he loves to play and say hello to everyone! He can run very fast and loves running around in the park with Rylee, chasing a ball and he loves all other dogs."
Raffy and Rylee and very friendly and love being with their human family and friends.
A second chance at life for five feline friends submitted by Leroy of 3 Blue:
Last week, Leroy of 3 Blue and his family rescued four kittens that were found under a bush. They join a very spoilt cat names Catsby.
The four kittens, Tabitha, Sensible, Bella and Patchy love to eat and play.
"They like Wombaroo milk, which is like their mum's milk, and they like to play with toilet paper rolls," Leroy said.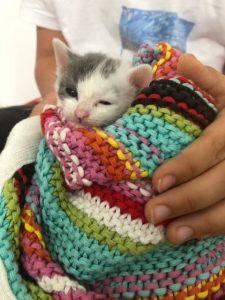 "It is important to rescue kittens because otherwise, they might die. When we got them we took them to the vet to weigh them and make sure they were healthy.
"When we got Catsby we took him straight home because he was big. Catsby poos a lot and the kittens are always hungry. And they are so cute. And fluffy. In fact, maybe they're even fluffier than baby chickens."

Sace submitted by Janahli of Kindergarten Gold:
"This is my dog, her name is Sace. Her favourite things to do are playing with her rope, eating bones and popping bubbles," Janahli said.
"She is unique because she likes to do funny things like sitting in weird spots, she is also special because we saved her when she was sad and hurt. She is a special part of our family. I love Sace!"

Sace enjoys finding small spaces like the laundry basket where she will squash herself in to fit.
We look forward to sharing further IGS Community pet news.