The incursion was called "Let's Kung Fu with Panda" and included a traditional Kung Fu demonstration, Tai-chi fan dance and meeting an intriguing Panda.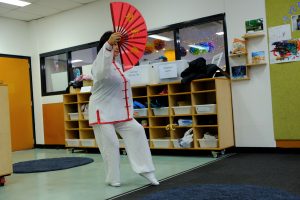 Extended Hours Coordinator Elena Palmitessa said it was an excellent way to celebrate the multiculturalism of Early Learning and look ahead to IGS International Day, to be celebrated on 2 August. 
"The children were just flabbergasted when they saw the big Panda coming into the room, and really interested and engaged in trying all the different poses that required great skills of coordination and balancing," she said.
Charlie: "Panda was so big that he could not pass from the door."

Ruka: "I want to give him a hug."
Oliver: "I'm going to learn Kung-Fu."