The light bulb moment took place when Niamh, now 23, was in Primary School with Michelle Weir's class, and found her love for drawing and art.
Growing up, Niamh, with her sister and her cousin, would often draw outfits to a theme for the family to judge. Niamh would always win and said that's what sparked her confidence in fashion design.
Today, the 23-year-old has completed an honours degree in Fashion and Textiles Design at UTS and is preparing to go to New York on a scholarship for two years in August where she will further her studies in design.
She has also started her own brand, Ramp Tramp Tramp Stamp.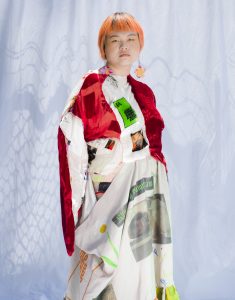 Niamh is right to be enormously proud of the collection she created towards the end of her degree.
The collection suited all genders and all sizes, and used all secondhand elements.
"A big one for me is looking at how clothing can fit people with a range of different identities, different genders, sizes, race, age and how can one piece of clothing enhance what is beautiful about an individual and conforms to them rather than them having to conform to the clothing," Niamh said.
After completing her Bachelor's degree the creative designer took a year's break from studying and worked in LA.
Niamh's work has been noticed by several stylists already, she said she is most proud of her work that has been picked up by members of the queer community and the underground Sydney art scene.
"I want to make clothes that make people feel good about themselves and it's nice when you see people from tiny little size 6 blondes all the way to size 16 curvy goddesses and they are all are wearing the exact same piece of clothing and they all look good," Niamh said.
Growing up, she said no one was interested in learning how to sew at IGS.
In Year 7 she received her first sewing machine. She had a few lessons from her grandmother and then pestered her dad, Paul, Deputy of High School and Director of student activities to start a sewing club.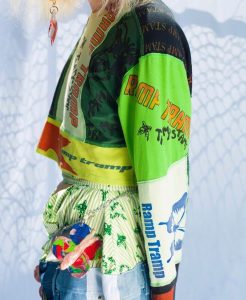 "I pestered dad to make a sewing club and pestered all my friends to join because if not enough people joined the club, the club doesn't exist," she said.
"After that, I basically just taught myself."
Niamh's dream is to make a living from making clothes. She hopes to grow her brand once she returns from New York.