Students have been at the centre of their own learning as they've explored duration, pitch, tone colour, texture, dynamics and expressive techniques and structure.
Complex musical concepts have been made more accessible to students through visual and tactile exercises which tapped into the different learning styles of a range of students.
Better Be Home Soon by Crowded House and Back in Black by AC/DC were just two of the selected works which provided a focus for aural discovery.
"Initially, students devised the range of musical structures employed by composers through a 'think-wonder' strategy," Ms Housley said.
"This was inspired by a photographic visual stimulus (the artefact) which led to deep thinking and discussion.
"Students then built models to replicate various musical structures using blocks, plastic cups and clapping sticks.
"They verbally interpreted these physical structures to their peers in preparation for their improvised musical representations on instruments at hand."
Student engagement was maintained through consistent and frequent challenges, inclusive questioning, and a range of activities that included directed listening, singing, composition and performance, movement, and tactile interpretation of musical forms.
"Through listening activities and consideration of focus questions students moved from 'macro' structure to more complex 'micro' structural analysis. They searched for clues in sheet music and annotated the found musical features with highlighters."
Custom made booklets were provided which summarised the lesson content and the vocabulary lists were a useful source for reviewing new content.
"With their enlightened knowledge of musical concepts, students worked in small groups to plan a reinterpretation of Better Be Home Soon. These 'covers' saw students manipulate the style, performing media, pitch, duration and structure of the song."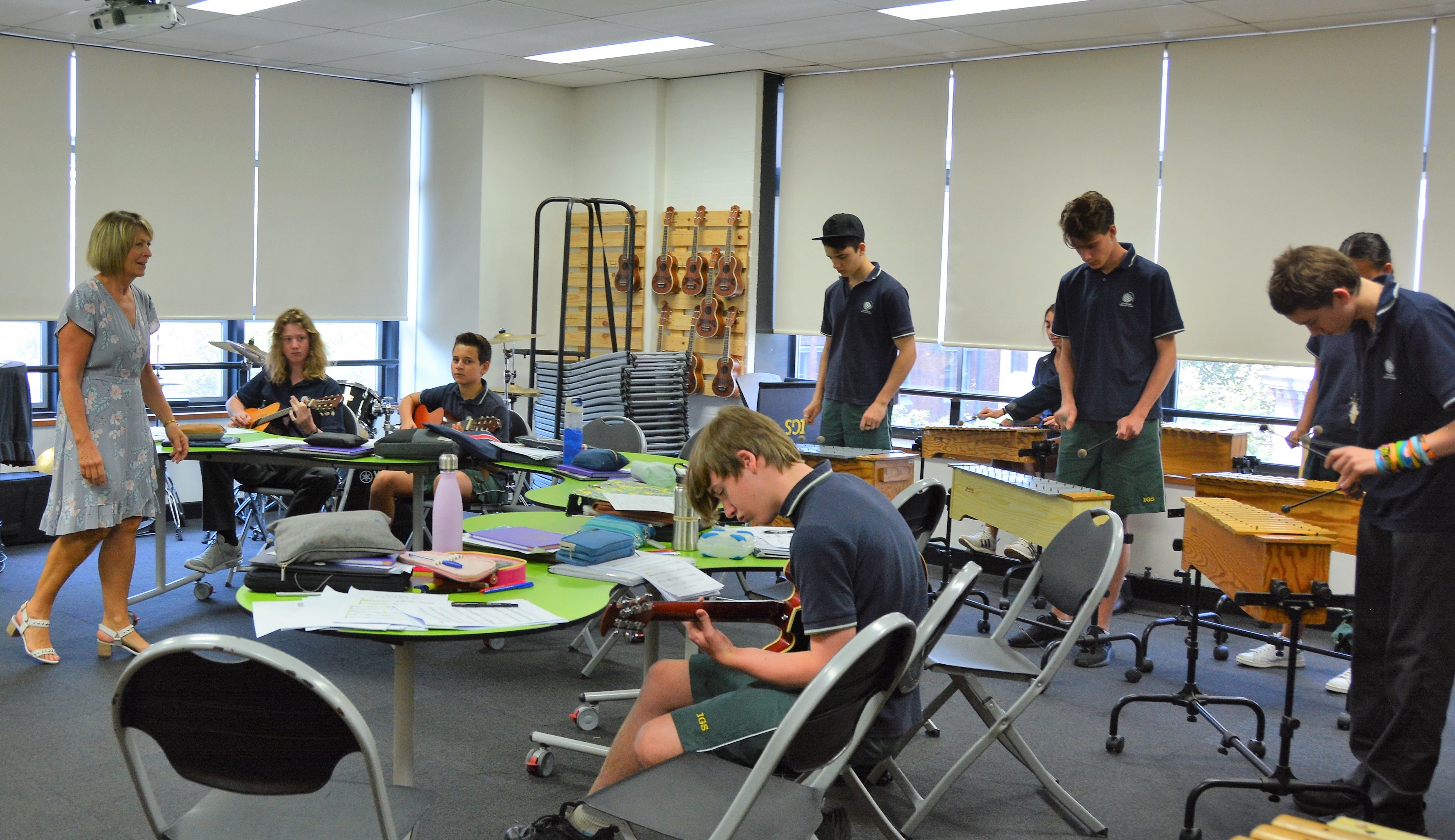 Students used their own instruments including guitars, bass guitars and saxophone in addition to classroom instruments including mallet percussion, drums, piano and voice in their performances.
"It was incredibly satisfying to see each student fully engaged in their learning, each contributing to the planning process and then successfully providing a vital role to the group performance," Alison said. "They thoroughly enjoyed themselves."
Students were sent videos of their performances allowing them to review their work, to self-evaluate and subsequently report their observations to their peers in the next lesson. Each student spoke about what they did really well and what they might improve on in future performances.
Class materials and homework activities were posted on Canvas to assist students with their progress and planning.
What did the students think of the lessons?
Noah: Worthwhile, interesting and fun.
Lulu: I learnt a lot of new concepts and vocabulary
Nate: To be able to improvise around your friends in a comfortable learning environment where everyone feels they can express themselves, without pressures? It's good.